News and Information
---
No trace of Caprivi gunman
July 11, 2006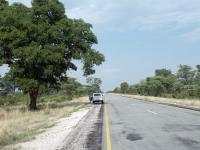 No trace of Caprivi gunman
CHRISTOF MALETSKY

THE search for a man who opened fire on two vehicles in west Caprivi 10 days ago is still on.

Police spokesman Warrant Officer James Matengu said they were still searching for the assailant who shot and killed one person.

Several others had to flee for their lives when the man attacked two vehicles on the highway between Omega and Chetto.

According to witnesses, the man who shot at the cars was wearing dark glasses, a black jacket and only socks on his feet.

Walvis Bay resident Matthias Braune and his family were the first victims.

They were travelling from Katima Mulilo towards Rundu when somebody suddenly appeared in the middle of the road.

He tried to stop Braune but did not succeed.

When Braune drove past him the man opened fire and hit the bakkie's canopy.

Braune proceeded to Omega and met another vehicle coming from the other direction.

He stopped and warned the three people travelling in the car about the attempted ambush.

However, Kaleb Semi (25), a friend known as Museke and an unidentified hitchhiker, a Zambian national, continued on their way and were attacked.

The hitchhiker, whose name has not yet been released, was shot and killed while the other two fled the scene.

The burnt-out wreck of their car was found next to the road.
Source: www.namibian.com.na
http://www.namibian.com.na/
Support Caprivi Freedom
Fill out the form below to become a member of this site and receive our regular newsletter.