News and Information
---
Hearings on food scandal next month
May 30, 2006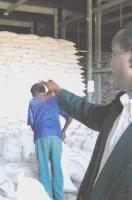 Hearings on food scandal next month

LINDSAY DENTLINGER

THE disciplinary hearings of four Caprivi Regional Council officials accused of negligence for their alleged role in allowing 230 tonnes tons of food aid to rot in a Katima Mulilo warehouse have been set for two weeks next month.

Caprivi Chief Regional Officer Raymond Matiti, director Robert Mapenzi and Calvin Mukata and Dennis Situnda of the Regional Emergency Management Unit will face charges of misconduct before a four-member disciplinary panel.

Acting Chief Regional Officer Erica Ndiyepa confirmed to The Namibian that the hearings would take place at Katima Mulilo between June 12 and 23.

Steynhard Kazavanga, a principal legal officer in the Ministry of Justice, has been assigned to chair the disciplinary proceedings, while Chris Nghaamwa of the Attorney General's Office will act as investigating officer.

The other two panel members are Tsumeb-based senior public prosecutor Zenobia Barry and Aletta Gases, a deputy director of the Kavango Regional Council.

The Local Government Ministry is arranging the disciplinary of a fifth accused, Dobson Kamwi, a Government official working in the Rural Development directorate at Katima Mulilo, assisting with food aid distribution.

The Namibian has learned that Director of Housing Uilka Kamboua would chair his disciplinary hearing, but could not establish when this would be.

Queries were directed to Kamboua, who is on leave.

It has been nearly a year since Cabinet was alerted to 18 000 bags of maize meal left to rot in a military warehouse near Katima Mulilo instead of being fed to needy drought and flood victims.

Matiti had only been the CRO for a few months when the discovery was made.

He has been on suspension since the end of February.

Mapenzi was the acting Chief Regional Officer at the time the food was delivered to the warehouse for distribution.

Mukata and Situnda were responsible for record-keeping and food distribution within REMU Mapenzi, Mukata and Situnda were all suspended in March.

Caprivi Governor Bernard Sibalatani was the first to be suspended in February and charged in connection with the food scandal, but after a month's forced leave at the instruction of Cabinet, he returned to work.

He will only face disciplinary action at the instruction of Cabinet once the proceedings of the others have been finalised, the Local Government Ministry said earlier.

A high-level investigation team found that negligence was the cause of the food going to waste and recommended to Cabinet that the six should face consequences for their role.

The food was found unfit for human consumption and had to be destroyed.



Source: www.namibian.com.na
http://www.namibian.com.na/
Support Caprivi Freedom
Fill out the form below to become a member of this site and receive our regular newsletter.