News and Information
---
Legal challenge to Zanzibar union
May 23, 2006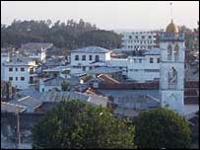 Legal challenge to Zanzibar union

Zanzibar's historic stone town is a tourist attraction
A court in Zanzibar has begun hearing a case challenging the legality of the treaty that created the United Republic of Tanzania in 1964.
The move was taken by 10 Zanzibaris who are seeking to invalidate the union of mainland Tanzania and the archipelago.

As the court set 28 June to start hearings, top officials from Zanzibar and the mainland met in Dar-es-Salaam.

They were discussing islanders' claims of alleged injustices in the union treaty that led to the legal action.

"I believe that many problems facing the union can be solved and the best way is to discuss them transparently," said federal Vice-President Ali Sheni, as he started talks with Zanzibar's Chief Minister Shamsi Vuai.

Correspondents say many Zanzibaris feel that the union favours the mainland.

Recent elections on Zanzibar have seen violent clashes between supporters of the Civic United Front, which gets most of its support from the archipelago and the ruling CCM party.

Zanzibar, with its long beaches and colourful history of trading spices and slaves, is one of Tanzania's main tourist attractions.


Source: www.bbc.com
http://news.bbc.co.uk/2/hi/africa/5007636.stm
Support Caprivi Freedom
Fill out the form below to become a member of this site and receive our regular newsletter.