News and Information
---
Caprivi lagging behind
May 18, 2006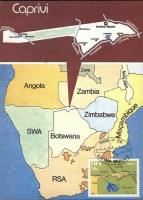 Caprivi lagging behind

ABSALOM SHIGWEDHA

A SWAPO MP believes that the Caprivi Region could become Namibia's breadbasket if its food production potential is exploited fully.

Leonard Mwilima, the Councillor for the Katima Mulilo Rural constituency in Caprivi, told the National Council last week that the fertile land in the region and the mighty Zambezi River could turn it into a major food producer.

But Mwilima said due to the slow implementation of agricultural projects such as the Green Scheme, this has not happened and people are still poor.

"What is more disturbing is that despite all this potential, the region remains one of the poorest in our country, if not the poorest," he said.

Mwilima said most proposed projects existed only on paper and there were no tangible economic activities on the ground to improve living standards in the region.

"Conference after conference, yet still no positive results.

The Green Scheme project is even a distance away.

The sugar plantation, one wonders what really transpired," Mwilima told the National Council during debate on the 2006-07 Appropriation Bill on Thursday.

He said these were projects that could boost the country's economy.

Mwilima said the 2006-07 National Budget would serve no purpose if it did not improve the living standards of the Namibian people.

The Swapo MP said black economic empowerment should be promoted, but warned that individuals should not be allowed to enrich themselves at the expenses of the masses.



Source: www.namibian.com.na
http://www.namibian.com.na/
Support Caprivi Freedom
Fill out the form below to become a member of this site and receive our regular newsletter.