News and Information
---
Caprivi treason trial resumes
May 18, 2006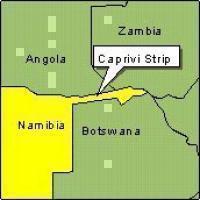 Caprivi treason trial resumes

WERNER MENGES

THE main Caprivi high treason trial lumbered back into action following a five-week break yesterday.

The trial restarted before Judge Elton Hoff in the High Court on the grounds of the Windhoek Central Prison on a familiar note: with a leading figure in the ranks of the 31 unrepresented accused persons addressing the Judge with a list of complaints about the treatment they are receiving as trial-awaiting prisoners and about the reasons why they want to have no part in the trial.

Aggrey Makendano told the Judge that the treatment he and his co-accused were receiving in prison in his opinion constituted physical, mental and psychological torture.

They had been denied food items that form part of diets that had been medically prescribed for some of them - these include milk, eggs, fruit, vegetables and oatmeal porridge - since December last year, Makendano complained.

Instead of this prescribed diet, they are being given porridge made with yellow maize meal - "the sort you use to feed pigs", he said - while other food is infested with maggots or cockroaches, Makendano said.

To compound this situation, their families are not being allowed to bring them food in prison during the week either, he added.

They are only allowed to do this on Saturdays and Sundays.

Makendano charged "mistreatment, humiliation and torture tactics" are deliberately being employed against him and his co-accused, and that their treatment contravened several international treaties on the treatment of prisoners.

He also launched into a repeat of an address that the court has already heard on a number of occasions since the start of the main part of the trial back in August 2004.

This time, though, Makendano only got as far as re-telling the court that he and another four unrepresented accused persons did not consider the Caprivi Region to be part of Namibia, before Deputy Prosecutor General Herman January stopped him with an objection.

His address to the court can be made when he gets his chance to present his case to the court, January said.

As for his complaints about the conditions of their detention, Judge Hoff suggested that these should be forwarded to the Ombudsman to be properly investigated.

The prosecution's 51st witness in the trial started with his testimony after Makendano had addressed the court.

The witness is Detective Sergeant Jacob Shipalanga, who is attached to the Namibian Police's Scene of Crime Unit.

He testified about photographs that he had taken of previous photographs of the accused persons, and which he then compiled in random order into a new photo album.

He would presume that the purpose of this would be to help the court with the identification of the accused men on trial, Shipalanga said.



Source: www.namibian.com.na
http://www.namibian.com.na/
Support Caprivi Freedom
Fill out the form below to become a member of this site and receive our regular newsletter.