News and Information
---
A fight over pictures in Caprivi high treason trial
May 18, 2006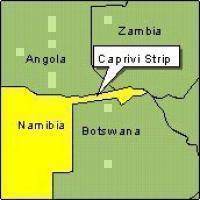 A fight over pictures in Caprivi high treason trial

WERNER MENGES

THE defence in the main Caprivi high treason trial is pulling out all the stops in an effort to prevent an album of photographs of the 119 men charged in the trial from being admitted as evidence before Judge Elton Hoff.

Defence lawyer Patrick Kauta told Judge Hoff in the High Court in Windhoek yesterday that he plans to ask the court to declare the Judge's provisional admission of the photo album as "tainted by irregularities" and as irregular in itself.

He will also ask the court to make a finding that the irregularities the defence claims are marring the trial are compounded by the fact that the State is continuing with an investigation of the high treason case, parallel to the trial.

The target of Kauta's complaint is an album containing photographs of the 119 accused persons on trial before Judge Hoff.

This album was compiled by Detective Sergeant Jacob Shipalanga, a member of the Namibian Police's Scene of Crime Unit, only last week, the court heard when the trial resumed on Tuesday after a five-week break.

The album is in essence a copy by Shipalanga of two previously existing albums of photographs of the accused persons.

Members of the defence team involved in the trial have attacked Shipalanga's evidence when they cross-examined him, by accusing him of having altered, manipulated and corrupted the original photographs when he photographed them for the new album.

Kauta further charged yesterday that the compilation of the new album is nothing but an attempt by the prosecution to circumvent a ruling that Judge Hoff made in December last year.

In that ruling, the Judge declared that it constituted an irregularity if the prosecution provided a photo album of the accused to State witnesses before they testified and before they were asked to identity the people they were giving evidence about in court.

The prosecution has been facing recurring problems in getting witnesses to actually identify the accused men they were claiming to be testifying about.

During Kauta's cross-examination of Shipalanga yesterday, the witness agreed that there was a possibility that State witnesses could be assisted by such an album of photographs.

That is not just a possibility; it is a real likelihood, Kauta followed up on that answer.

During questioning from Deputy Prosecutor General Taswald July, however, Shipalanga added that it would be difficult, without the help of an index of the names of the accused men that shows where in the album their pictures can be found, for someone to use the album to make a courtroom identification of any of the accused persons.



Source: www.namibian.com.na
http://www.namibian.com.na/
Support Caprivi Freedom
Fill out the form below to become a member of this site and receive our regular newsletter.