News and Information
---
Khwe in Caprivi elect new Chief
May 16, 2006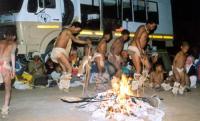 Khwe in Caprivi elect new Chief

STAFF REPORTER

THE Khwe in west Caprivi last week elected a new Chief.

Ben Ngobara won Monday's election by a clear majority at Omega 1 village.

He succeeds the late Chief Kippi George, who died in December 2000.

The Khwe people have had no leader since then.

Ngobara will now nominate a senior traditional councillor and has already written to the Minister of Local and Regional Government, Housing and Rural Development, John Pandeni, to inform him that he plans to apply for recognition as the first-ever Khwe Traditional Authority.

Under George's leadership, the application was rejected.

"I am proud to have been elected Chief.

My priority is to unite the Khwe people and help them to develop economically.

My people need clear leadership, after so many have tried to mislead us, and deny us our basic human rights," Ngobara told the Working Group of Indigenous Minorities in Southern Africa (Wimsa) after his election.

Some 4 000 Khwe people live in the 10 villages of west Caprivi within the Bwabwata National Park, between Divundu and Kongola.

The Khwe people are the overwhelming majority in this area, which has been severely neglected in terms of infrastructure, communications and economic development since Independence.

Monday's election of Ngobara was observed by an election control officer from the Electoral Commission of Namibia, Floris Farmer, who declared the election free and fair, and the result democratic.

Wimsa Treasurer Naftali Soroseb, who attended the election, said: "Wimsa, a San-owned organisation, is delighted to have helped the Khwe people to hold a very successful democratic election.

The Khwe people are not subject to any tribe, so they must have their own recognised traditional authority and they must also get recognition of their own territory, between the Kavango and Kwando rivers."


Source: www.namibian.com.na
http://www.namibian.com.na/
Support Caprivi Freedom
Fill out the form below to become a member of this site and receive our regular newsletter.