News and Information
---
Mandela 'murder plotters' escape
May 3, 2006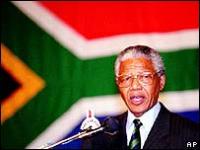 Nelson Mandela became South Africa's first post-apartheid leader
Two men accused of plotting to kill Nelson Mandela have escaped from a court in South Africa.
Herman van Rooyen and Rudi Gouws are charged with involvement in a white supremacist plot to topple South Africa's post-apartheid government.

The pair fled court in Pretoria during a break for lunch, officials said.

The trial began with 22 suspects, but many charges have been dropped and some have questioned whether the alleged plotters ever posed a real threat.

"I can confirm that during the lunch recess two of the accused went missing," court official Sally de Beer said.

"We have launched a massive search and obviously have already started an investigation into the circumstances surrounding their escape."

Slow progress

White supremacists opposed to the emancipation of South Africa's black majority were seen as the biggest threat to the state in the years after the collapse of the apartheid regime.

Mr van Rooyen, 33, and Mr Gouws, 28, are among those charged with the murder of Claude Mokone in the Johannesburg township of Soweto in October 2002.

They are also alleged to have been involved in a plot to blow up the car carrying Nelson Mandela during his time as South African president.

However, the plot failed when Mr Mandela travelled by helicopter instead.

The trial has been repeatedly delayed and has crawled along in court as defence lawyers challenge the validity of the court and South Africa's post-apartheid constitution.



Source: www.bbc.com
http://news.bbc.co.uk/2/hi/africa/4970888.stm
Support Caprivi Freedom
Fill out the form below to become a member of this site and receive our regular newsletter.