News and Information
---
Caprivi Khwe to elect chief
April 11, 2006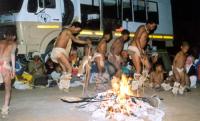 * STAFF REPORTER

KHWE headmen from Western Caprivi are expected to meet at Omega later this month to discuss the election of a new Khwe Chief.

The Khwe have not had a chief since Kippi George died in December 2000.

Assisted by the Working Group of Indigenous Minorities in Southern Africa (Wimsa), headmen plan to hold an election in early May.

They have written to the Deputy Prime Minister Libertina Amathila, seeking her advice and support.

Besides a Chief, six senior traditional councillors will also be elected and will then seek Government recognition as the first-ever Khwe Traditional Authority.

A new community development office will be opened on April 18, the day the election rules will be discussed.

The office has recently been refurbished by the Khwe Youth League and have helped spur on development projects such as the harvesting of devil's claw, honey production, small-scale agriculture, building training and a new pre-school which is being built at Chetto.

"Recent statements by certain political leaders that the Khwe are opposing the Namibian Constitution, stirring up tribal conflict and trying to drive other groups out of West Caprivi, are completely false," said Wimsa's Regional Coordinator Joram /Useb in a statement.

"There have also been claims that other people such as foreigners and white people are inciting the Khwe and that the initiative is not coming from themselves.

That is absolute nonsense."

/Useb said it was good that the Khwe were getting together to work towards their own development.

Wimsa holds the view that the Khwe of Western Caprivi are the most marginalised San group in Namibia and estimates that employment is less than 3 per cent.

"All groups and tribes can live in harmony here, so long as each follows the correct procedures.

We have no problem with living with our neighbours, whatever the tribe or language.

But we must all respect the traditional leaders such as headman," Ben Gambara, Khwe traditional leader from Mutc'iku village, is quoted as saying by Wimsa.



Source: www.namibian.com.na
http://www.namibian.com.na/
Support Caprivi Freedom
Fill out the form below to become a member of this site and receive our regular newsletter.