News and Information
---
Zambezi floodwater surrounds villages
April 6, 2006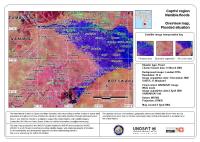 * LINDSAY DENTLINGER

THE Zambezi River has surpassed the five-metre mark at Katima Mulilo and surrounding villages in the eastern floodplains of the Kabbe constituency.

Yesterday, Kabbe councillor Peter Mwala said villagers had already moved their cattle to higher ground where grazing was available and that water had surrounded the school at Muzii.

The river is now higher than when it reached its highest level of 3,14 metres last year.

However, the Deputy Director of Hydrology, Guido van Langenhove, said yesterday that the river was not expected to rise above 5,5 metres.

This could happen in the coming days.

According to Mwala, the water was rising fast and the villages of Nankuntwe, Namiyundu, Nsundwa, Schuckmannsburg and Itomba were all surrounded by water from the Zambezi River.

But the water had not yet flooded buildings or made the area uninhabitable, he said.

Warnings are being repeatedly broadcast on national radio for people to evacuate their homes as soon as the water shows any indication of inundating their property.

"The schools are still operating as they are still situated on dry land, but the water is encroaching," said Mwala.

"They are sitting like little islands."

Mwala said he did not expect the rising water to affect the schools before they closed next week.

Van Langenhove said information received from Lukulu in Zambia, the benchmark station for the way the river is expected to act at Katima Mulilo, indicated that the river flow peaked two weeks ago.

This is roughly the same length of time it takes for the river to react in the same way at Katima Mulilo.

The river is thus not expected to get much higher than its current height.

The Zambezi River has exceeded the five-metre mark four times since 2000, reaching a high of 6,62 metres in 2003 and 7,05 metres the following year, forcing thousands to flee their homes.

Although the river has been rising much slower than is customary since the beginning of the year, it rose more than a metre in just 10 days at the end of last month before reaching the five-metre mark this week.

The river is now also higher than the average of 4,67 metres for April 6.

In 2004, the level had already peaked by the first week of April.



Source: www.namibian.com.na
http://www.namibian.com.na/
Support Caprivi Freedom
Fill out the form below to become a member of this site and receive our regular newsletter.