News and Information
---
Treason witnesses testify without challenge
March 23, 2006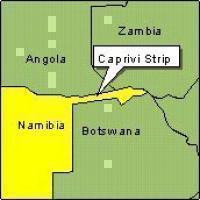 * WERNER MENGES

THE first two witnesses in what will be the main part of a second Caprivi high treason trial finished their testimony in the High Court in Windhoek on Monday without facing a single question from the defence.

Acting Judge John Manyarara started hearing testimony on the merits of the State's case against the 12 men being prosecuted in the repeatedly delayed and waylaid trial on Friday last week - a year and nine months after they had made their first appearance in the High Court.

By the time the court adjourned on Monday, both the State's first witness in what should become the main part of the trial, Katima Mulilo Magistrate Rachel Sakala, and Bernard Sachibambo, an interpreter working at the Katima Mulilo Magistrate's Court, had sailed through their testimony without even a hint of a challenge being raised.

Just before the court adjourned on Monday, one of the 12 accused men, Vincent Siliye, told Acting Judge Manyarara that he wanted to place it on record that he and his co-accused were actually not being legally represented any more, that they did not consider themselves to be part of the trial, and that they had applied to the Directorate of Legal Aid to be provided with legal representatives who would carry out their instructions.

Acting Judge Manyarara told Siliye that defence lawyers Nate Ndauendapo and Zagrys Grobler remained present in court at the court's request, to help see to it that the trial proceeds fairly and according to law, and that the new application to the Directorate of Legal Aid was a matter between Legal Aid and the accused and not the court's business.

Ndauendapo and Grobler had earlier informed Acting Judge Manyarara that they did not have any instructions to put any questions to Sakala and Sachibambo in cross-examination.

With that being the case, two statements that two of the 12 men made before Sakala during 2002 were admitted as evidence without any objections from the defence.

Siliye had told the court last week that he and his co-accused considered themselves to be Caprivians, and not Namibians, that they did not consider the Caprivi Region to be part of Namibia, that in their view the Namibian Government was illegally exercising power in the Caprivi Region, and that they wanted their lawyers to pursue these views as their instructions in the trial.

Both lawyers have told the court that they regarded these instructions as impossible to carry out.

Both statements by Frederick Isaka Ntambilwa and John Mazila (Kulu) Tembwe are styled as "confessions" in terms of the Criminal Procedure Act, but neither would actually appear to be an unequivocal admission of guilt by either of the two men.

Both Tembwe and Ntambilwa related in the statements that they had left Namibia to take up refuge in Botswana, where they stayed at the Dukwe Refugee Camp.

Tembwe left in late December 1998, and Ntambilwa left in early January 1999, they told the Magistrate.

Ntambilwa volunteered to be repatriated to Namibia in June 1999, he related.

"Unfortunately because of the Katima Mulilo 2nd August attack by the 'Caprivi Liberation Army' (CLA) we were told that the repatriation had been halted."

By 2001, he stated, a message from Mishake Muyongo - the alleged leader of the CLA who left Namibia in late 1998 and now lives in Denmark - was brought to Dukwe.

The message said "that those who were ex-soldiers and Police were to be registered and come back to Caprivi and hide in the bush and wait for Muyongo's command," his statement says.

From his statement, it would appear that he arrived back in the Caprivi Region in May 2001, and that he and various companions, including Tembwe, then spent the next year in hiding.

A struggle to find enough food to keep themselves alive, rather than plans to carry out a mission to secede the region, dominated their existence in that year, both Ntambilwa's and Tembwe's statements indicate.

By July 18 2002, the Namibian Police caught him and three members of his group.

Tembwe told the Magistrate at great length how, after he and a group of fellow refugees had returned to the Caprivi Region from Dukwe in April 2001, they stayed in the bush, moving from place to place in an effort to avoid being spotted and arrested, and how they faced constant difficulties to get enough food for the group.

By September 2002, he decided to go to Botswana again, Tembwe stated.

He crossed the border into Botswana on September 13 2002, reported himself to a tribal authority and was taken to a Police station, where he was kept in custody before he was deported to Namibia on September 20 2002, Tembwe said.

The trial continues today.


Source: www.namibian.com.na
http://www.namibian.com.na/
Support Caprivi Freedom
Fill out the form below to become a member of this site and receive our regular newsletter.