News and Information
---
Sibinda flood victims evacuated
March 3, 2006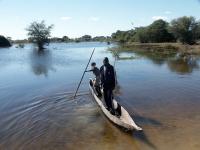 * LINDSAY DENTLINGER

THE Caprivi Regional Emergency Management unit yesterday began moving around 1 200 people from the flooded Sibinda constituency to drier ground.

At least 500 of the affected people are pupils at the local school, where classrooms and teachers' houses have been flooded as a result of heavy rains over the past two months.

Since the beginning of the year, the Caprivi has received more than 400 mm of rain.

Councillor for the Sibinda constituency Felix Mukupe told The Namibian yesterday that he expected all the affected people to be moved by the end of the weekend.

They are being taken by car about two kilometres away from Sibinda village, where they are being provided with tents, food and blankets.

Teachers' houses were flooded by rainwater and they have been forced to sleep together in a small room in the school hostel.

Houses in the area are usually made of mud and clay.

The Deputy Director of the Emergency Management Unit, Gabriel Kangowa, was in the Caprivi this week to check on Remu operations and contingency plans.

The Zambezi River surpassed the two-metre level this week, but is still low compared to the average at this time of year and levels that caused flooding in the eastern floodplains in 2003 and 2004.

"We are really monitoring the situation very closely.

This time we are better prepared.

We are going to work better," Kangowa told The Namibian from Katima Mulilo.

He said people were already being prepared to evacuate the moment the river level becomes a flood threat, instead of waiting for the flood to arrive.

Warehouses at the town had been cleaned in preparation for emergency supplies that had already been sent to the Caprivi last week, he said.

This week Kangowa travelled to most of the areas that become unreachable when the Zambezi River is in flood, and he said he had not experienced any problems in getting there.

But he said it could not be ruled out that the situation could change later this month or even next month.

"We are very carefully monitoring the river.

There is nothing threatening at the moment, but you never know what can happen," said Acting Caprivi Governor Leonard Mwilima.


Source: www.namibian.com.na
http://www.namibian.com.na/
Support Caprivi Freedom
Fill out the form below to become a member of this site and receive our regular newsletter.