News and Information
---
Treason witness declared 'hostile'
February 23, 2006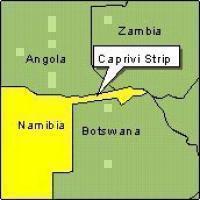 * WERNER MENGES

A SUDDEN but complete U-turn in the witness stand had the State's 30th witness in the main Caprivi high treason trial declared hostile to the prosecution this week.

With State witnesses deviating in court from witness statements that the Police had taken from them during their investigation of the high treason case, and witnesses either failing to identify people among the 119 accused that they have testified about or making wrong identifications, the prosecution has not been having an easy run in the trial recently.

But even as State witnesses and their imperfections and unpredictability go, the 30th witness to be called to give evidence for the prosecution, teacher Boniface Libanda, has proven to be in a class of his own.

The reward that he received for that distinction was to be declared a hostile witness by Judge Elton Hoff on Monday, opening the way for Deputy Prosecutor-General Herman January to cross-examine the State's own witness and put him through the wringer in an effort to find out how and why he was suddenly disavowing and repudiating his previous testimony when the trial resumed on Monday morning.

Libanda started testifying on Thursday.

Making no mention of having been forced against his will to give evidence, he told the court that he had been approached at his home in the Caprivi Region in 1998 to attend a meeting, and that this meeting turned out to be one where arrangements were discussed for the transportation of people from the region to Botswana.

Libanda told the court that he offered his own vehicle for this purpose, and helped to transport some 30 people, although he did not know why they had to go to Botswana.

The meeting that he attended was addressed by one Kester Kabunga - the name of one of the 119 accused persons on trial before Judge Hoff.

On another occasion, he also told the court, two young men approached him and asked his assistance to get them to Botswana.

He directed them to one Eustace Sizuka, who is another of the accused persons in the trial.

Libanda failed to identify either Sizuka or Kabunga when he was asked whether he could see them in court.

As it turned out, both Kabunga and Sizuka are related to Libanda.

Kabunga is a cousin of his, and Sizuka is his nephew, Libanda told the court this week.

Having given his evidence-in-chief on Thursday, Libanda's testimony continued only after Friday and the weekend had intervened.

By Monday, he had a quite different story to tell the court.

Everything that he had previously told the court was untrue, he announced.

The testimony that he had given from the witness box on Thursday, he added, was in response to questions that he was asked about "the comprehension of a composition that was written by" Police officer Evans Simasiku, who led a team of policemen who questioned him when witness statements were taken from him.

The contents of his witness statements came from Simasiku, and not from himself, Libanda claimed.

When Simasiku and colleagues questioned him, Libanda related, the policemen were all armed, while some also displayed sjamboks - the security forces' weapon of choice for the torture of people who were detained in the wake of the attacks that armed separatists carried out at Katima Mulilo on August 2 1999.

He felt like he was in the presence of intimidation and torture, Libanda said.

Having heard these claims, January asked the court to declare Libanda a hostile witness.

Libanda's explanation that he had been waiting for an opportunity to tell the court that his witness statements were all untrue, and that he only got that opportunity on Monday, was "an artificial and unacceptable explanation", Judge Hoff commented when he ruled Libanda a hostile witness on Monday afternoon.

It was clear that Libanda had a desire to give evidence in favour of the defence and was unwilling to testify in favour of the State, which is the party that had called him to give evidence, and there was sufficient reason to believe that he "is very reluctant to tell the truth at the instance of the party (State) who called him," Judge Hoff remarked.

Yesterday, Libanda stuck to his claims that his testimony on Thursday had in essence been a pack of lies.

As he put it, "in the questions arising from the comprehension" - apparently his term for the witness statements that he claimed had been Simasiku's products - "there is no truth before the (court), only deceit".

When Simasiku and other officers first questioned him, Simasiku told him that he had to answer only what they asked him, and that if he valued his life he would have to tell only the truth, he stated.

"All the introductions were made to threaten me, and I felt I was in the world of terror and fear," he said.

Over the past weekend he had not discussed Thursday's events in court with anyone - "not even a baby" - he said in reply to a question from January.

He had met relatives in Windhoek to discuss arrangements for the funeral of an uncle of his who had died, but even then, not a word was spoken about the trial, and none of them even asked him what he was doing in Windhoek, he claimed.

* In a report on the trial that was published in The Namibian on Monday (under the headline 'Treason defence lawyers turn on each other') it was incorrectly stated that defence counsel Patrick Kauta had told the court that one of his clients, taxi driver Agry Muamba, was arrested on April 29 2000 while transporting two of his co-accused in the trial, Bennet Mutuso and Richwell Manyemo, with his taxi, and that an AK47 rifle is alleged to have been found in the vehicle's boot.

In fact, Kauta had told the court that Muamba was arrested with Mutuso and another accused person, Richwell Muhupelo, and that the firearm is alleged to have been found in the car's boot after he had picked up the two passengers at the house of Richwell Manyemo, where a State witness claimed he had seen a nervous-looking Mutuso with an AK47 rifle on the day after the attacks of August 2 1999.

We apologise for the unintentional error.
Source: www.namibian.com.na
http://www.namibian.com.na/
Support Caprivi Freedom
Fill out the form below to become a member of this site and receive our regular newsletter.