News and Information
---
Accused in second treason trial want the Judge replaced
February 16, 2006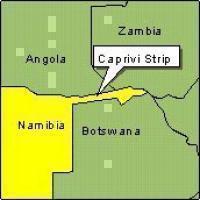 * WERNER MENGES

THE Judge who is set to preside over the second Caprivi high treason trial is going to be asked to recuse himself from the case.


Delays preventing the start of the trial continued to dog it this week.

The latest of these occurred yesterday.

The most recent starting date set for the trial was Monday this week, but this came and went without the prosecution getting a chance to put its charges to the 12 men who are set to go on trial or to call the first of the witnesses whose testimony it plans to present to the court.

The trial also did not start yesterday, and nor will it on Monday next week, when the matter is set to return to court again.

On Monday, the case was postponed to yesterday, after defence counsel Nate Ndauendapo, who is representing 11 of the 12 men, asked Acting Judge John Manyarara to be given time until yesterday to discuss with his clients a ruling that Acting Judge Manyarara gave on Thursday last week.

In that ruling, Acting Judge Manyarara decided that the law would not permit 11 of the 12, who tried unsuccessfully to challenge the High Court's jurisdiction over them, to appeal to the Supreme Court against his dismissal of that application.

On Monday, defence counsel Zagrys Grobler, whose sole client in the case also disputed the court's jurisdiction without success, told the court that his client had also told him to ask for a postponement to yesterday, and had further instructed him to ask for Acting Judge Manyarara's recusal.

Ndauendapo added yesterday that he had since received similar instructions from his 11 clients.

He asked for the case to be postponed to Monday, when the recusal application is set to be argued.

The prosecution will no longer have witnesses at court and ready to testify by that time.

Deputy Prosecutor General Danie Small asked, and received, Acting Judge Manyarara's permission yesterday to excuse the State witnesses who had been summoned to court for what was expected to be the start of the trial until there is some certainty that the trial will actually kick off.

The 11 high treason accused who challenged the High Court's jurisdiction are Progress Munuma, Shine Samulandela, Alex Mushakwa, Vincent Siliye, Diamond Salufu, Alex Mafwila Liswani, Boster Samuele, Hoster Ntombo, Vincent Sinasi, Manuel Makendano and John Mazila Tembwe.

Together with a twelfth co-accused, Frederick Ntambilwa, they are charged with counts of high treason, sedition, public violence and the illegal importation and possession of arms and ammunition in connection with their alleged involvement in a plan to secede the Caprivi Region from Namibia through armed means between September 1998 and December 2003.



Source: www.namibian.com.na
http://www.namibian.com.na/
Support Caprivi Freedom
Fill out the form below to become a member of this site and receive our regular newsletter.