News and Information
---
NOW ALLEGATION OF KIDNAPPING SURFACES IN TREASON CASE
February 12, 2006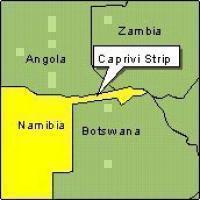 Posted by: nshr on Feb 13, 2006 - 12:32 PM


February 12 2006

Namibia's National Society for Human Rights (NSHR) deeply deplores incessant and credible allegations that certain Namibian police (NamPol) members in the Caprivi treason case continue, with apparent impunity, to use coercive means, including kidnapping and bribery, to force certain Caprivi residents to make self-incriminating statements against themselves and or others in blatant violation of international law. NamPol members, whose identities are known to NSHR, include those police officers that have been heavily implicated in the systematic torture of both Caprivi secessionist suspects and certain State witnesses during the last eight years.

In the latest development family members of Mr. Kachibonwa Charles MATOME (c.60), who approached NSHR condition of anonymity, requested the human rights monitoring and advocacy organization to investigate Matome's whereabouts. Matome is resident of Lubuta village, some 120 kilometers west of the town of Katima Mulilo. The town is the capital of the Caprivi Region.

"We appeal to your good offices to investigate [the practice of] kidnapping of our family member (and other innocent people) from the Caprivi Region as a forced witnesses. [Mr. Matome was first] arrested in 1998, kept in prison for three days without our knowledge …We discovered him to be one of the innocently arrested people and he was immediately released without any charges leveled against him. It is against this background that [we request your good offices] to investigate this issue before many people are dragged in situations of this nature. Old people are easily convinced with little dollars…"

NamPol officers allegedly kidnapped Matome towards the end January 2006 and forcibly brought him some 800 kilometers to the Namibian capital of Windhoek in order to testify as a State witness. A preliminary NSHR investigation indicates that, after being secretly kept at a local hotel in Windhoek, Matome had been returned to Katima Mulilo during the weekend of February 4-5 2006. His present whereabouts are unknown, however.

Contacted over the weekend on Matome's whereabouts, a senior NamPol spokesperson said that the police was unaware about the incident, but promised to investigate the matter by Monday, February 13 2006. The said spokesperson requested NSHR to furnish NamPol with relevant details about the incident for that purpose.

"Hence, we have directed a written request to the Office of Honorable NamPol Inspector General Lt-General Seb Ndeitunga to look into the kidnapping allegations", said NSHR executive director Phil ya Nangoloh over the weekend.

Over the last six weeks NSHR has been receiving credible allegations that certain inter alia State prosecutors either have connived with, or tolerated, those NamPol officers connected to the Caprivi secessionist saga, who had been accused of having themselves inflicted or tolerated the use of torture and other coercive means to force certain people to make self-incriminating statements. However, all State officials, including prosecutors and law enforcement officials, are strictly, absolutely and generally prohibited from, unintentionally or otherwise, collude with acts of torture while carrying out their official functions. According to Article 4(1) of the UN Convention of Torture:

"Each State Party shall ensure that all acts of torture are offenses under its criminal law. The same shall apply to an attempt to commit torture and to an act by any person which constitutes complicity or participation in torture".

NSHR is of the opinion that the time has come for State prosecutors to distance themselves from those law enforcement officials who had been accused of having inflicted, instigated or tolerated the torture or other cruel, inhuman or degrading treatment or punishment against their captives. NSHR is also of the opinion that to allow any persons accused of the crime of torture to continue to directly deal and or to be in physical contact with their alleged victims constitutes a grave violation of both national and international law and could in se be tantamount to tolerance of torture.

"Lest we are misunderstood, let me categorically point out here that a criminal act in the form of an armed attack had been perpetrated in the Caprivi Region on August 2 1999. Hence, we are totally in favor of, and strongly urge, anyone with credible information out there to voluntarily approach the prosecution team in the Caprivi secessionist saga for the purpose of so testifying. By the same measure, we totally reject all and any unlawful and illegal attempts and or acts of forcing people to testify or tolerating forced witness. Hence, we equally urge all and anyone using coercive means to force people to so testify to desist forthwith from this sordid criminal practice. As had been recently demonstrated in the United Kingdom ruling in the appeal case of A and Others v Secretary of State of State for the Home Department the evidence obtained through torture and other ill treatment has the potential of derailing trials and or bringing systems of the administration of justice in disrepute", warned ya Nangoloh.

Source: www.nshr.org.na
http://www.nshr.org.na/modules.php?op=modload&name=News&file=article&sid=553&mode=thread&order=0&thold=0
Support Caprivi Freedom
Fill out the form below to become a member of this site and receive our regular newsletter.