News and Information
---
Treason trial witness denies 'torture and threats' claim
February 8, 2006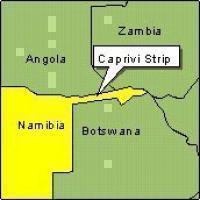 * WERNER MENGES

A CLAIM that the 25th prosecution witness in the main Caprivi high treason trial has complained that torture and threats were used to force him to give evidence surfaced in the High Court in Windhoek this week - only to be denied by the witness himself.

State witness Progress Munsu Mulonga was in the witness box for the fifth and last day of his testimony on Tuesday when defence lawyer Jorge Neves confronted him with a handwritten statement, allegedly signed by Mulonga himself, in which he is claimed to have complained that Police officers had subjected him to threats and torture.

That statement had been made to someone at the National Society for Human Rights office at Katima Mulilo in mid-April 2003, the NSHR claimed in a press release on Monday.

Neves had in the meantime managed to get hold of a copy of the handwritten document that Mulonga was claimed to have handed over to the NSHR at Katima Mulilo, and he used this as his first tool as he continued with his cross-questioning of Mulonga on Tuesday.

Mulonga refused to acknowledge either knowing the statement, or having written or signed it as claimed.

He denied that the handwriting on it was his.

When confronted with the signature on it, he acknowledged that it looked like his, but then claimed that he had not put it there, and said it must have been forged.

"This paper, I don't know these things," he told the court.

Neves steamed ahead and read the contents of the statement to Mulonga.

Included in it are statements reading, "I am not living well.

(…) I am not feeling free in an independent nation which is Namibia.

(…) I am being harassed by the Police."

It also states that the person who had made the statement reported that Police officers had picked him up at his home village and asked him about things that he knew nothing about, and that they also transported him to Katima Mulilo, where they beat him to the extent that he claimed his breastbone was fractured.

Thereafter, because of the torture he had been subjected to, he agreed to sign a statement which they had provided to him; he however admitted things which were not true, the statement says.

He was never harassed or beaten, though, and the contents of that statement were now being "forced" on him while he knew nothing about it, Mulonga stated on Tuesday.

No Police officer "even made an attempt to touch my body or even to harass me", he said.

In its press release on Monday, the NSHR claimed that Mulonga had reported in 2003 that he was "particularly forced to give false testimony to incriminate" certain people accused in the high treason trial, including former DTA National Assembly member Geoffrey Mwilima.

"The forced statement allegedly inter alia claims that Mulonga had attended a secret meeting, which he said Mwilima had supposedly addressed, saying 'Caprivi will be liberated through the barrel of the gun'," the NSHR stated.

It also added: "While at NSHR offices Mulonga categorically repudiated the statement and appealed to NSHR to assist him as his 'life was in danger' from NamPol members."

Mwilima is one of the eight people that Neves is representing in the trial.

Mwilima featured repeatedly in Mulonga's testimony, with the witness telling Judge Elton Hoff that he had attended three meetings in the Caprivi Region during 1998 where Mwilima was present, and that Mwilima addressed some of these meetings.

At these events, he claimed, people in attendance were told - at least once by Mwilima himself - that former DTA leader Mishake Muyongo had left his party in order to focus on a new mission of seceding the Caprivi Region from Namibia, and that this goal was to be achieved through the use of firearms.

Having challenged Mulonga with the statement that he is claimed to have made to the NSHR, Neves told him that his instructions from Mwilima were that Mwilima never attended the meetings that Mulonga had testified about, and neither did he address such meetings.

Mwilima was there, Mulonga insisted, telling Neves that it was for that reason that Mwilima was arrested in the first place and was finding himself in the dock in court.

Yet in the first of three witness statements that the Police took from Mulonga, none of the allegations against Mwilima that he aired in court were included, Neves told him.

Mulonga was visibly annoyed by the question.

Neves knew nothing about Mwilima, and he should just sit down, Mulonga answered.

Mwilima was at all three meetings that he had testified about, and Neves did not know what he was talking about, he said, repeating: "I know Geoffrey was there."

The NSHR also claimed last week in a press statement that another person had complained to the organisation that attempts had been made to force him to testify in the trial.

The leader of the Police's investigation team involved in the case, Deputy Commissioner Abraham Maasdorp, denied the claims.

He added that if anything, intimidation in the Caprivi Region was being directed at potential prosecution witnesses, not by the Police but by other residents of the area in an effort to prevent people from testifying in the trial.

* Mulonga's surname was wrongly spelled as "Mulongo" in a report on the treason trial that was published in The Namibian on Monday.

We apologise for the error.
Source: www.namibian.com.na
http://www.namibian.com.na/
Support Caprivi Freedom
Fill out the form below to become a member of this site and receive our regular newsletter.