News and Information
---
Empty promises of education lured us to Botswana, claim treason witnesses
November 28, 2005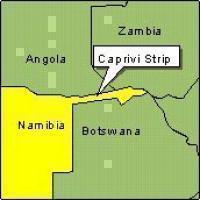 * ║WERNER MENGES

PROMISES of education and employment - and no mention of military training - were used to entice young men from the Caprivi Region to join an exodus of people to Botswana in late 1998 and early 1999, the two latest State witnesses to testify in the main Caprivi high treason trial related in the High Court in Windhoek on Friday.

Albert Chalo and Saviour Musilingi both testified before Judge Elton Hoff on Friday, becoming the sixteenth and seventeenth witnesses to have testified for the prosecution since the start of the drawn-out and repeatedly-interrupted trial in August last year.

Their testimony continued a narrative that was started by the State's twelfth witness, Shailock Sinfwa, at the beginning of last week, when he told the court that he had been tasked with recruiting people to leave Namibia and go to Botswana, where they were supposed to receive military training in preparation for a separatist movement's plans to take up arms to secede the Caprivi Region from Namibia.

Sinfwa told the court that he had been the chairman of a branch of the DTA and its regional member party in Caprivi, the United Democratic Party, at his home village of Namalumbi close to Katima Mulilo.

When the then DTA and UDP leader, Mishake Muyongo, took the UDP out of the DTA alliance in late 1998, DTA branch chairpersons in the Caprivi Region reverted to being UDP branch chairmen, and were given the task of informing people in their areas that the UDP had split from the DTA and would be fighting to liberate the Caprivi Region from Namibia, Sinfwa told the court.

He added that towards the end of 1998, Richwell Matengu - whom he pointed out in court - told him that as a branch chairman of the UDP he had to organise people to go to Botswana.

He was told that he had to inform them that they would find employment in Botswana, Sinfwa said.

He claimed that Matengu also told him that he was not supposed to tell potential recruits that they would be joining "the army of Muyongo" in Botswana, because if they knew that, some of them would not be willing to go.

Sinfwa told the court that he recruited seven people as part of this exercise.

They have all returned to their home areas since then, he added.

Chalo, who is also from Namalumbi village, was one of those recruits.

He told the court that, having failed Grade 10 at school, he had gone to the DTA office at Katima Mulilo to ask if there were any bursaries available so that he could further his education.

He met Geoffrey Mwilima at the office, but Mwilima told him that the party did not have money available to grant bursaries.

Mwilima then added that if Chalo were to go to Botswana, he might perhaps find a school there that he could attend, Chalo related.

Mwilima is a former DTA Member of the National Assembly, and is one of the more prominent figures among the 120 men accused in the high treason trial.

Having referred to Mwilima, however, Chalo made the same mistake that Sinfwa had made earlier in the week when he tried to identify him in court.

Like Sinfwa, Chalo also claimed that he could point out Mwilima - but then pointed out the wrong person, former NBC producer Barnard Mucheka, as the person that he said was Mwilima.

After that exchange with Mwilima at the DTA office, Chalo added, he met Sinfwa, who confirmed what Mwilima had told him.

Sinfwa organised a vehicle with which he (Chalo) and three other men were transported to a village in the Linyanti area, from where they were taken to a point on the Namibia-Botswana border where they crossed the border into Botswana, he said.

He arrived at the Dukwe refugee camp in Botswana early in January 1999.

There, he heard no more of promises of opportunities to further his education.

Instead, he was present at a meeting where Caprivians were told that they had to work together to "cut Caprivi from Namibia", he testified.

His understanding of what was said at that meeting - where the speaker addressed the people in English, which Chalo said he was not fully conversant in - was that the Caprivi Region was to be liberated from the rest of Namibia "by the barrel of a gun".

Chalo said he returned from Dukwe about five months after his arrival there.

He said he volunteered to be repatriated to Namibia.

Saviour Musilingi told the court that he, too, left Namibia for Botswana with the assistance of Sinfwa.

He said that was in early 1999, and that he also went on to stay at Dukwe, from where he returned to Namibia after four months.

He and other men who went to Botswana at the same time were promised by Sinfwa that they would be able to find both education and employment in Botswana, he said.

However, when they found that these promises remained empty after their arrival in Botswana, they decided to return to Namibia, Musilingi said.

Chalo also testified about a brief encounter with one of the other accused men in the trial, Victor Matengu, that he said had taken place in June 1999, after his return from Dukwe.

He said he met Matengu at a crossroads, and as they passed each other Matengu asked him whether he would be assisting the people who were to launch a coming attack.

While Chalo said Matengu's remark was made in passing, and that he did not even reply to it, such a claim might be used to implicate Matengu as having had prior knowledge of the fatal attacks on Government-related targets that alleged armed secessionists are accused of having launched at Katima Mulilo on August 2 1999.

Under cross-examination from Percy McNally, Matengu's defence lawyer, Chalo however conceded that he did not pay proper attention to the remark that he claimed Matengu had made.

Also, at that time, rumours and talk of an impending armed attack in the region could be heard in all sorts of bars and shebeens in the region, he further agreed with McNally.

The trial continues today.
Source: www.namibian.com.na
http://www.namibian.com.na/
Support Caprivi Freedom
Fill out the form below to become a member of this site and receive our regular newsletter.