News and Information
---
Iran calls for US exit from Iraq
November 22, 2005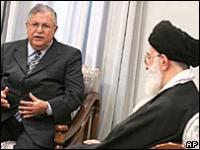 Iraqi President Jalal Talabani (l) with Iran's Supreme Leader Ayatollah Ali Khamenei
Mr Talabani (l) has said he expects Iran will help beat insurgents
Iran's Supreme Leader, Ayatollah Ali Khamenei, has urged the visiting Iraqi president to push for a speedy pullout of foreign troops from his country.

The ayatollah also told Jalal Talabani that the US was mainly responsible for widespread violence in Iraq.

Mr Talabani is on the second day of a landmark visit to Iran, the first by an Iraqi leader for almost 40 years.

On Monday he met Iranian President Mahmoud Ahmadinejad, who pledged total support for Iraq's independence.

In remarks reported by Iranian state media, Ayatollah Khamenei blamed the US for much of the violence destabilising Iraq.


The US and Britain will eventually have to leave Iraq with a bitter experience
Ayatollah Ali Khamenei
Iranian Supreme Leader
"The Islamic Republic of Iran holds the American government responsible for the suffering of the Iraqi people and all the crimes and assassinations now being committed in Iraq," he said.

"The presence of foreign troops is damaging for the Iraqis, and the Iraqi government could ask for their departure by proposing a timetable," he added.

"The US and Britain will eventually have to leave Iraq with a bitter experience."

Mutual respect

Shia Iran has forged ever-closer links with Iraq, which has been dominated by a coalition of Shias and Kurds since the fall of Saddam Hussein in 2003.

But there have been reports that Tehran offers support to Shia militias who have staged attacks against US and UK forces in Iraq.

Mr Talabani, a Kurd, has been wary of accusing his neighbour of interfering in Iraq's affairs.

"We will never forget the Iranian government and people's help to Iraq, and we hope our relations improve in all areas," he was reported as saying.

The BBC's Frances Harrison in Tehran says that behind the scenes Iraqi officials are likely to push for greater sharing of intelligence with Iran, and for more efforts to secure the border between the two countries.

In public, Ayatollah Khamenei said Iraq's security was Iran's security and praised Iraq's elected government.
Source: www.bbc.com
http://news.bbc.co.uk/2/hi/middle_east/4460430.stm
Support Caprivi Freedom
Fill out the form below to become a member of this site and receive our regular newsletter.