News and Information
---
Treason trial's tenth witness wraps up testimony - at last
November 22, 2005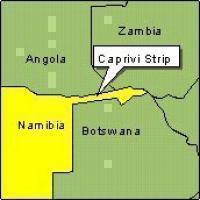 * WERNER MENGES

AFTER 18 days in the witness box, and eight months and a week after he started testifying, the prosecution's tenth witness in the main Caprivi high treason trial on Thursday at long last concluded his evidence in the High Court in Windhoek.

By the time the witness bade farewell to the witness stand - from where he testified about what he said were the activities of a secessionist movement in the Caprivi Region from as far back as 1985 to 1999 - he had set the record for the longest time any State witness in the trial has so far spent testifying before Judge Elton Hoff.

In stark contrast to his testimony was the speed with which the evidence given by the tenth witness's successor on the stand, Chrispin Makuta Saushini, was heard and dispensed with, also on Thursday.

With that, Saushini's testimony has become probably the shortest yet to have been heard by Judge Hoff during the trial.

The twelfth prosecution witness, Shailock Sitali Sinfwa, started testifying yesterday, and is set to continue giving evidence today.

Six of the nine defence lawyers in the trial have already completed cross-questioning him.

Saushini's testimony was in contrast to the identity-shielded tenth witness, not only in its length, but also its scope.

Witness number 10 testified during March and this month about events that he said had taken place as far back as 1985, when he claimed he became aware of the existence of beliefs that the Caprivi should be an independent state, separate from the remainder of Namibia.

He told the court that 31 of the 120 men accused were, at one time or another, and in one capacity or another, part of a secessionist movement that fell in with and advanced that idea.

Saushini's evidence was limited to one of the 120 men only.

That is Norman Justus, the only white person among the accused.

Justus used to be in charge of the Government Garage at Katima Mulilo until he was arrested and charged a few days after alleged armed separatists' attacks at the town on August 2 1999.

The tenth witness also mentioned him in his testimony.

He told the court that Justus had offered to help the secessionist movement by providing it with fuel from the Government Garage.

Justus had also signed special fuel permits from the Government Garage, which members of the movement then used to buy six drums of diesel, meant to be traded with the Angolan rebel movement Unita, at a service station at Katima Mulilo at some time during 1998, the witness claimed.

His claims about Justus were strongly disputed by Justus's lawyer, Patrick Kauta, when he cross-questioned the witness.

On Thursday, Saushini, too, appeared to dispute the claim about the use of the special permits.

According to Saushini, Justus was in a post above him at the Government Garage.

After the August 2 1999 attacks, Justus stayed away from work for about three days, and when he returned, he told Saushini that he had been to Zambia to buy food for his children, and that he had used "manoeuvres" - understood by Saushini to refer to some form of stealth and wile - to get there and back.

Justus had introduced a system whereby a special permit had to be used to buy fuel for Government vehicles at a Katima Mulilo service station, Saushini told the court while State advocate Niel Lakay led him through his evidence in chief.

Kauta raced through his cross-examination of the witness in little more than 10 minutes.

The previous witness had faced seven days of cross-questioning.

On his questioning, the witness added that special permits for buying fuel had to be signed by himself and Justus, and that it was not possible to use such a permit to fill six drums with diesel.

When Kauta asked him whether it would be true if the State were to allege that Justus had used these type of special permits to fill six drums with diesel, Saushini dismissed it out of hand: "No, they are liars," he said.

If he were to know that Justus - who he referred to as "my cousin" - had ever stolen fuel through his post at the Government Garage, he would have reported Justus "so quickly", Saushini added.

But he never did.

For now, Justus appears to have his sympathy.

"I'm even very sorry to see the cousin there," Saushini remarked at one stage of his testimony, motioning towards Justus in the dock, standing out like a sore thumb as the only white man in that part of the court.
Source: www.namibian.com.na
http://www.namibian.com.na/
Support Caprivi Freedom
Fill out the form below to become a member of this site and receive our regular newsletter.