News and Information
---
Israel's Sharon quits Likud party
November 20, 2005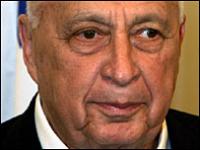 Israeli President Moshe Katsav with PM Ariel Sharon
Moshe Katsav said he would act soon on Mr Sharon's request
Israeli Prime Minister Ariel Sharon is forming a "new national liberal" political party, leaving the right-wing Likud party he helped to found.

"Likud in its current format cannot lead Israel to its national aims," Mr Sharon said in a televised address.

He staked out claims to political ground on both the right and the left, mentioning both security and poverty.

Israel's parliament, the Knesset, has already approved the first step towards dissolving itself.


There is no additional disengagement plan - there is the roadmap
Ariel Sharon

Press reels at Sharon drama
Reaction in quotes
Legislators say the three more ballots needed to formally dissolve the Knesset could take place by Tuesday evening.

Mr Sharon had already asked President Moshe Katsav to dissolve parliament and call a snap election.

The legislators' vote on Monday evening may be an attempt to seize control of the election timetable from Mr Sharon, analysts say.

Three choices

Mr Sharon's move redraws the political map of the country, the BBC's Katya Adler in Jerusalem says.


SHARON MILESTONES
1967: Brig Gen during Six-Day War
1973: Elected to Knesset, helps found Likud
1981-83: Defence minister, masterminds Lebanon invasion
1990-1992: Housing minister, leads huge expansion of Gaza and West Bank settlements
1998-99: Foreign minister
2001-today: Prime minister
Late 2004: Agrees national unity government with Labour

Q&A: Sharon's gamble
At the next election voters will be presented with three main choices - the Likud party on the right, the Labour party on the left, and Mr Sharon's new movement in the centre, our correspondent says.

Mr Sharon listed peace with the Palestinians and Israeli security as among the main goals of his party, tentatively called National Responsibility.

The prime minister is said to have the backing of 14 of Likud's 40 MPs, including five cabinet ministers.

Getting 14 legislators together would give him the right to claim a share of Likud party funding.

The Knesset has 120 seats.

Mr Sharon upset many hardliners within Likud over his disengagement plan, carried out earlier this year, under which Israel unilaterally withdrew its settlers and soldiers from the Gaza Strip and parts of the West Bank.

On Monday night he said there was no plan for further unilateral disengagement from the West Bank.

"We have the big settlement blocs that will remain forever in the hands of Israel and will be territorially connected to Israel," he said.

"There is no additional disengagement plan - there is the roadmap," he said, referring to the US-backed peace plan.

After Sharon

Uzi Landau, a senior Likud figure opposed to the Gaza withdrawal, said his party would "do whatever possible" to fight any further pullout.

He said Mr Sharon's departure represented a "new hope for Likud with clean politics".


HAVE YOUR SAY
Sharon is acting in the interests of Israel and its future
Peter Singleton, Netherlands

Send your reaction
Defence Minister Shaul Mofaz has indicated he will run for the Likud leadership.

Former Prime Minister Binyamin Netanyahu is also widely expected to cast his hat into the ring.

Mr Sharon and Labour leader Amir Peretz are understood to have agreed earlier in the week to bring forward elections from November 2006 to either February or March.

President Katsav said on Monday night they would be held not later than 28 March.

Labour and Likud formed a national unity government last December, after Mr Sharon lost his majority in parliament over the disengagement plan.

Mr Peretz announced plans to withdraw from the coalition government soon after being elected as Labour leader earlier this month.

This precipitated Mr Sharon's decision to seek new elections.

Mr Sharon would not be drawn on whether veteran Labour party politician Shimon Peres would join his new party.

Sources close to Mr Peres have reportedly said he will not leave Labour.
Source: www.bbc.com
http://news.bbc.co.uk/2/hi/middle_east/4456242.stm
Support Caprivi Freedom
Fill out the form below to become a member of this site and receive our regular newsletter.