News and Information
---
Treason trial witness under heavy attack
November 14, 2005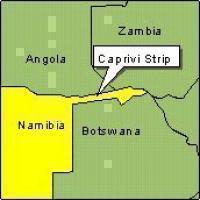 * WERNER MENGES
THE testimony of the prosecution's 10th witness in the main Caprivi high treason trial is set to continue for a 15th day in the High Court in Windhoek today.

The witness, whose identity is being protected under an order given by presiding Judge Elton Hoff, had to sweat it out at the witness stand for a fifth day of cross-examination from defence lawyers on Friday.

With his scheduled return to the witness box today, the end of his testimony may at last be in sight, as only three of the nine defence lawyers in the trial still have to cross-question him.

Since Monday last week, members of the defence team have been setting out to pull apart the witness's testimony by confronting him with inconsistencies in the evidence he has so far given in court.

On Friday, they continued with this task, and again achieved the same results of showing to the witness - and more importantly, to the court - that his testimony differed while being questioned by the prosecution and while under cross-examination.

On Friday, defence counsel Greyson Nyoni asked the witness whether he would deny or accept that his evidence was confused.

After the witness had denied Nyoni's statement, Nyoni went on to ask him how many times he had said an amount of N$3 000, which he had said was to be used to buy weapons from Unita in Angola, had been raised in the Caprivi Region by people who were setting up a movement that aimed to take up arms to secede the region from Namibia.

He had told the court about one such incident where that amount was raised, the witness told the court in reply.

That seems to have been the evidence that the witness intended to give to the court, Nyoni told him, adding that he however seems to have become "thoroughly confused" by the time he got to court and actually started testifying.

In his testimony, Nyoni pointed out to him, he had referred to a meeting at the DTA office at Katima Mulilo in 1992, where he had said N$3 000 was raised for planned arms purchases, then he had also referred to a meeting in 1997 where he said the same amount had been raised, for the same purpose, and then he had also testified about a third occasion, which he said was in 1998, where the same thing took place.

"This again is evidence to you that your evidence is confused," Nyoni told him.

"It's not confused," the witness replied, repeating that money had been donated and that the amount came to N$3 000.

However, the question when exactly that had been, and who among a changing cast of characters had been involved in such a meeting, was left unresolved.

The next lawyer to cross-examine the witness, Winnie Sithole Mwenda, also returned to that theme of the witness's testimony, and pointed out to him that he had at one stage told the court that he was never actually present when money was donated for the separatist movement's planned activities.

When that part of his testimony was quoted back to him, the witness said he could recall having said so - but actually, he added, he had been present on some occasions when money was collected, while he had heard about other such occasions that he had told the court about.

"That's hearsay," Sithole Mwenda told him.

"That's hearsay, but it's the truth," he answered.

"You are a confused witness," Nyoni had earlier told him as the lawyer wound up his cross-examination.

""I'm not confused," came the reply.

"You can convincingly fabricate," Nyoni continued.

"How? I'm not fabricating," the witness answered.

"And by reason of these two things, I'm submitting you are a dangerous witness," Nyoni added.

He was only telling the court what he knew, the witness answered.

The witness also had to endure a similar attack on his trustworthiness from defence lawyer Hennie Krueger on Friday.

Krueger told the witness that he had made "various critical mistakes" in his testimony.

The witness first responded that he did not know about mistakes, and then added that as a human being it was also possible for him to make mistakes.

"It is, sir, but is it possible for this court to rely on your evidence in some respects, and ignore your mistakes on critical other issues?" Krueger answered, stating what may turn out to be the thrust of the arguments that the defence lawyers could decide to use against the witness's evidence once the trial approaches its end.

Part of the difficulty that the witness and the prosecution may be encountering with his evidence could be due to the fact that his testimony had been interrupted for seven months when the trial was stalled between late March and the beginning of this month.

Defence lawyer Patrick Kauta told him on Thursday last week that he had lost 65 per cent of his memory in that time - and then went on to show to him how that had been calculated.

The witness had told the court at the start of his testimony in March about 34 meetings that he attended where the secessionist movement's activities were discussed and planned - but by the time that he continued testifying under cross-examination last week, he could only remember twelve such meetings, Kauta told him.

That represents a memory loss of 65 per cent, Kauta announced to him.
Source: www.namibian.com.na
http://www.namibian.com.na/
Support Caprivi Freedom
Fill out the form below to become a member of this site and receive our regular newsletter.