News and Information
---
Polisario rejects autonomy plan
November 8, 2005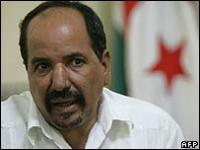 Polisario Front leader Mohamed Abdelaziz
Polisario is calling for a referendum over Western Sahara
The independence movement for Western Sahara has dismissed a proposal to grant the territory some autonomy.

A Polisario spokesman told the BBC the future of the Morocco-controlled region could only be resolved by a referendum.

Morocco's King Mohammed VI had said he wanted to consult political parties about some form of decentralisation.

He was speaking on the 30th anniversary of the Green March, when more than 300,000 Moroccans marched into Western Sahara to lay claim to the region.

The king said he supported giving the province powers to run its regional affairs "within the sovereignty of the kingdom".

Morocco's sovereignty over the mineral-rich region is contested by Polisario, an Algerian-backed separatist movement.

The UN has sought to resolve the dispute but Morocco has dismissed its plan for a referendum on independence.

Last week, protesters took to the streets in the main regional town of Laayoune calling for independence.

Western Sahara was seized by Morocco and Mauritania in 1975 after the colonial power, Spain, pulled out.

Fighting erupted the following year, and Morocco took over most of the region after Mauritania withdrew in 1978.
Source: www.bbc.com
http://news.bbc.co.uk/1/hi/world/africa/4415284.stm
Support Caprivi Freedom
Fill out the form below to become a member of this site and receive our regular newsletter.