News and Information
---
Deal reached on EU-Turkey talks
October 3, 2005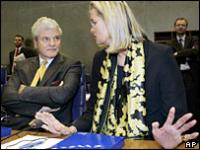 Austrian Foreign Minister Ursula Plassnik (right) and Austrian ambassador to the EU Gregor Woschnagg
Austria had reservations about full Turkish membership
The Turkish government has accepted the terms set by the European Union for membership negotiations to begin.

Turkish Foreign Minister Abdullah Gul said Ankara had reached agreement on a draft deal, and was flying to Luxembourg for the start of the talks.

The move follows more than 24 hours of fraught discussions among EU nations.

Members agreed on the terms of entry talks, after Austria withdrew a demand that Turkey should be offered an option short of full membership.

Turkey had flatly rejected such an option.

Mr Gul told reporters at Ankara airport that an "historic point has been reached today", adding that Turkey "has embarked on a new era".



EU views on Turkey bid
Guide to EU candidates
"The text sets out very clearly the prospect of full membership. There is no alternative option (mentioned)," he went on.

Meanwhile, in Luxembourg, EU president Britain called EU foreign ministers to a meeting to formally approve the terms of the talks.

Before the late breakthrough, Turkish Prime Minister Recep Tayyip Erdogan had insisted would not compromise on the conditions for starting talks.

"We have protected and are continuing to protect our stance, which is appropriate to Turkey's national interests and political principles," he told party members.

'Listening to people'

Monday saw Austria put under intense pressure, as it, alone among the EU's 25 members, demanded that the draft framework for entry talks should be rewritten.


AUSTRIA'S PROBLEM
Public still coming to terms with last EU enlargement
Tabloid newspaper campaign against Turkish membership
Governing People's Party feeling vulnerable and isolated
Element of xenophobia and Islamophobia
Memory of Ottoman sieges of Vienna

Austrian sticking point

The EU's member states must unanimously approve a negotiating mandate before talks can begin.

Austrian Foreign Minister Ursula Plassnik said her country was "listening to the people" by questioning full membership for Turkey.

"There are moments when we have to say that such fundamental things are at stake that a compromise is not possible," she warned.

But after a series of meeting with UK Foreign Secretary Jack Straw, it appeared she gave way.

There is deep popular opposition in Austria and other European countries to Turkey's accession to the EU, with sceptics citing Turkey's size, poverty, and main religion - Islam - as reasons to keep it at a distance.


HAVE YOUR SAY
Why is letting a Muslim nation, such as Turkey into the EU such a big deal?
Megan DePerro, USA

Send us your comments

Austrian Chancellor Wolfgang Schuessel has said he wants the EU to acknowledge popular concerns over its expansion.

But Mr Straw warned of a "theological-political divide, which could open up even further down the boundary between so-called Christian-heritage states and those of Islamic heritage".

The Turkish negotiations are expected to take about 10 years.

Also on Monday, a meeting to discuss starting entry talks with Croatia was postponed until after the Turkey issue could be settled.
Source: www.bbc.com
http://news.bbc.co.uk/2/hi/europe/4305500.stm
Support Caprivi Freedom
Fill out the form below to become a member of this site and receive our regular newsletter.