News and Information
---
Direct Darfur talks amid violence
October 3, 2005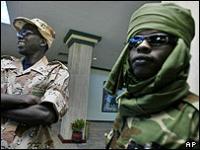 Rebels at the talks
The on-off talks have achieved little so far
Sudan's government and two rebel groups have met face-to-face for the first time since they resumed talks to end the crisis in Darfur.

The groups have been in Nigeria's capital, Abuja since the middle of September. They are expected to discuss power-sharing.

The army has denied a recent African Union allegation that it attacked civilians in Darfur.

Some 2m Darfuris are homeless, driven from their villages by militia attacks.

On Saturday, the head of the African Union in Sudan told reporters that government forces had engaged in a number of coordinated offensives with Arab militia, which led to scores of casualties.

A Sudanese military spokesman said that as the AU's information had come from aid agencies, it could not be considered reliable.

Displaced Sudanese woman prepares mud bricks
More than two million have fled their homes in Darfur
Helicopters have not flown in Darfur for two weeks, he said, and then they had been used to defend, not attack, civilians.

The BBC's Jonah Fisher in Darfur says the Sudanese government is still reeling from the normally cautious AU's damning statement on the continuing role of the state military in Darfur.

The statement said that in the last two weeks there had been a number of coordinated offensives by the Sudanese army and the Arab militia - known as the Janjaweed.

Refugee camps and villages have been attacked, according to the AU, with government helicopters, heavy weaponry and trucks.

At least 44 people died.

The Janjaweed have been blamed for driving people from their villages in Darfur.

The Sudanese government has admitted arming them, but now says they are bandits, and out of control.
Source: www.bbc.com
http://news.bbc.co.uk/2/hi/africa/4305872.stm
Support Caprivi Freedom
Fill out the form below to become a member of this site and receive our regular newsletter.