News and Information
---
Zimbabwe: Mugabe Succession Struggle
September 14, 2005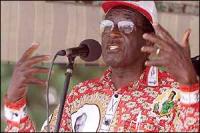 Institute for War & Peace Reporting (London)

September 13, 2005
Posted to the web September 14, 2005

James Mapapu
Masvingo

Ethnic allegiances play complex role in battle to succeed Mugabe.

With Robert Mugabe having announced that he plans to step down as president of Zimbabwe in 2008, controversy continues to rage over the question of who will replace him.

Mugabe - in power for a quarter of a century - made clear who was his own favourite candidate for succession when he shoehorned his longstanding ally Joice Mujuru into the post of vice- president late last year.

But another member of the president's ZANU PF party, Emmerson Mnangagwa - who had been widely viewed as a natural successor before being sidelined by the move - retains support.

The whole dispute over succession is inextricably tied in with rivalries between Zimbabwe's various tribes and clans.

And it has only deepened of late in the midst of Murambatsvina, or Operation Drive Out the Rubbish - Mugabe's infamous campaign to expel hundreds of thousands of urban poor from their homes.

Mujuru - who earned the nickname Teurai Ropa, or Spill Blood, after becoming involved in the war for independence from white rule at the age of 18 - has held various ministerial posts under Mugabe. She was appointed vice-president at last December's ZANU PF electoral congress.

In the run-up to the congress, Mnangagwa - a shrewd political player also known as Ngwenja, or Crocodile - had also successfully lobbied six provincial chairmen to back him for the vice- presidential post.

But Mnangagwa's bid came to nothing. In the event, Mugabe turned on the chairmen who had backed him, suspending them from ZANU PF before embarking on a campaign to root out Mnangagwa's other senior supporters.

While ZANU PF is keen to stress that all is now well, it is clear that the fallout from this whole affair is far from resolved.

Mnangagwa appears to have retained the support of all six of the provinces that backed him in his bid for the vice-presidency.

He commands a similar aura of fear as the president and is not necessarily thought of as a cure for Zimbabwe's decline. But he is perhaps the only person capable of uniting warring factions within ZANU PF.

Senior politicians in Masvingo, in the heart of territory dominated by Mnangagwa's clan, have already ruled out the possibility of supporting Mujuru if and when Mugabe steps down.

"Do you honestly think that Mujuru can lead this country when Emmerson [Mnangagwa] is there?" asked one local senior ZANU PF politician.

"Do you think she [Mujuru] has the qualities to rule an already fractious country?" the politician went on. "The candidate needs to be a person of steel, someone who will not brook any nonsense."

"It is obvious that Mujuru cannot lead the country - she can only do so with the explicit backing of Mugabe," echoed Josh Matindike, who fought for the ZANU movement during the war of independence. "We all know that Mnangagwa should lead the country."

Many of Mujuru's opponents feel that she owes her vice-presidential post to her husband, Solomon Mujuru, a hard-nosed opponent of Mnangagwa.

Solomon Mujuru took command of the ZANU guerrilla army in 1979 under the nom de guerre Rex Nhongo, and he went on to lead Zimbabwe's armed forces for a decade after the war ended. He apparently fell out with Mnangagwa when the latter blocked his bid to buy into a lucrative chrome mining scheme.

But the ethnic allegiances of the key players are also a significant factor in this struggle for the post-Mugabe presidency.

Mnangagwa and Joice Mujuru both belong to Zimbabwe's biggest tribe, the Shona. But within this tribe, Mnangagwa comes from a clan called the Karanga, while Mujuru belongs to Mugabe's own Zezuru clan.

Tensions between the Karanga and Zezuru trace back to the war, when the Karanga provided the bulk of fighters and military leaders for the ZANU movement.

Since power fell into the hands of Mugabe - a ruthless Zezuru intellectual who led the ZANU movement but did no fighting himself - many Karangas feel he has ignored their contribution, sidelined their leaders and promoted members of his own clan.

Indeed, following December's congress, none of the top five ZANU PF posts were occupied by Karangas, despite the fact that members of the clan make up some 35 per cent of Zimbabwe's 11.5 million citizens. The Zezuru account for around 25 per cent of the population.

The cabinet formed by Mugabe following March's general election is also dominated by Zezurus, at the expense of many influential Karangas.

"We have known for a long time that Mugabe hates us, Karangas," said Marvellous Chauke, a war veteran from Masvingo.

Chauke believes Karangas have wasted too much time fighting each other, "Now is the time for us to rally around Mnangagwa and give the Mugabe-Mujuru alliance a run for their money. We need equal representation in government."

Tinotenda Mapfupa, a supporter of the opposition Movement for Democratic Change, MDC, in Masvingo, said he was outraged at the way in which Karangas were being treated by Mugabe and his clansmen.

"I would rather all ZANU PF supporters in Masvingo province opened their eyes and stopped supporting ZANU PF," said Mapfupa.

The rivalries have only been exacerbated by the Murambatsvina operation, which has seen vast numbers of homes in urban slums demolished in what the government says is an effort to clean up such areas and fight crime.

The operation drew intense international criticism and badly dented the image of ZANU PF. Supporters of Mnangagwa have been quick to blame it on Zezurus.

Indeed, the four people most intimately involved in planning and implementing Murambatsvina - Mugabe, Mujuru, Zimbabwe's other vice president Joseph Msika and the local government minister Ignatius Chombo - are all Zezurus.

Given this simmering discontent, Joice Mujuru will have to work carefully to earn the trust of Karanga politicians in the looming battle for succession.

To make things more complicated, the coalition behind Mnangagwa's bid for the vice-presidency also involved members of a smaller Shona clan, the Manyika, and members of Zimbabwe's other main tribe, the Ndebele.

Shona clans occupy eastern and northern parts of Zimbabwe - their ancestors began arriving here from western central Africa over a thousand years ago. The Ndebele, on the other hand, mainly occupy the dry western part of the country, and trace their roots back to the Zulus of South Africa.

Mapfupa told IWPR that Mnangagwa's best option would be to form an alliance with MDC leader Morgan Tsvangirai, along with representatives of the Manyika and Ndebele.
Relevant Links
Southern Africa
Zimbabwe
Legal and Judicial Affairs
Human Rights

"Then we will see where Mugabe and his Zezurus get the mandate to rule Zimbabwe," said Mapfupa.

James Mapapu is the pseudonym of a Zimbabwean journalist.
Source: www.allafrica.com
http://allafrica.com/stories/200509140556.html
Support Caprivi Freedom
Fill out the form below to become a member of this site and receive our regular newsletter.