News and Information
---
Ugandan rebel attack shocks Sudan
September 14, 2005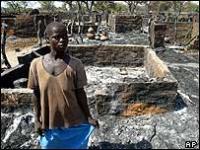 Woman stands in her charred home in Barlonyo, Uganda
Rebels often burn villages and steal food
Ugandan rebels have crossed the White Nile river for the first time and attacked an area on a major road near the capital of southern Sudan, Juba.

More than 40 Lord's Resistance Army (LRA) fighters burnt houses on the Yei to Juba highway in broad daylight.

Since riots following the death of south Sudan's leader John Garang, this road has been Juba's main supply route.

The BBC's Alfred Taban says authorities were surprised by Tuesday's attack and there is great tension in Juba.

The LRA insurgency in northern Uganda has been marked by the massacre of civilians and the abduction of tens of thousands of children.

Stealing food

Southern Sudan's Vice-President Raik Machar confirmed the attack and assured Juba's residents that security would be beefed up.



Q&A: LRA's rebellion

With the departure last month of northern merchants, whose shops were looted following the announcement of Mr Garang's death, little food has been arriving from the capital, Khartoum.

Former rebel leader Mr Garang had just been sworn in as Sudan's vice-president when he died in a helicopter crash in July.

Juba residents now rely on food being brought in on the road from Yei.

Attacks by LRA have been taking place fairly regularly around Juba in the last few months, but always to the east of the White Nile, our correspondent says.

In August, the rebels took control of several villages in the south-east harvesting and feeding on crops grown by locals, most of whom fled.

The LRA has bases in southern Sudan and for years was backed by the Khartoum government while Uganda offered support to Mr Garang's SPLA group.

But with the end of Sudan's civil war in January this support has officially ended and the Sudanese military has been allowing the Ugandan army to pursue LRA rebels inside Sudan.
Source: www.bbc.com
http://news.bbc.co.uk/2/hi/africa/4246276.stm
Support Caprivi Freedom
Fill out the form below to become a member of this site and receive our regular newsletter.