News and Information
---
Kofi Annan urges bold UN reform
September 14, 2005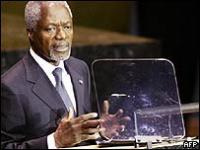 UN Secretary General Kofi Annan

Kofi Annan's speech
UN chief Kofi Annan has urged world leaders to persevere on UN reforms and take bolder steps to fight poverty.

He told the UN summit the members' deal on a reform package was a good start, but differences had prevented progress.

President Bush urged the UN to pursue meaningful reforms to allow it to meet modern challenges. He said the US was committed to helping overcome poverty.

The summit of some 150 leaders opens a day after UN ambassadors reached a watered-down deal on reform plans.

The three-day meeting marks 60 years since the founding of the organisation.


We have not yet achieved the sweeping and fundamental reform I... believe is required
Kofi Annan

World press downbeat
Summit at-a-glance
Blair urges action on terror
The UN Security Council passed a resolution to prevent the incitement of terrorism and another to prevent conflict, especially in Africa.

"Terrorism won't be defeated until our determination is as complete as theirs," UK Prime Minister Tony Blair told the Council in prepared remarks.

Mr Bush said terrorism, fed by anger and despair, passed easily across oceans and borders.

"There can be no safety in looking away or seeking the quiet life by ignoring the hardship... of others," he said.

'Posturing' concern

The UN chief said the lives of millions and the hopes of billions rested upon leaders' pledges to fight poverty, disease and inequality.


UN General Assembly meets on 13 September

Proposed reform package (107K)
Most computers will open PDF documents automatically, but you may need to download Adobe Acrobat Reader.
Download the reader here

Mr Annan said members had failed to achieve the profound reform the world body needed.

"We have not yet achieved the sweeping and fundamental reform that I and many others believe is required," he said.

The secretary general said the biggest failing was in the areas of nuclear non-proliferation and disarmament, where "posturing" had got in the way of results.

He also expressed concern about the lack of agreement over Security Council reform.

"I urge you... to have patience to persevere, and the vision needed to forge a real consensus," he said.

The BBC's Susannah Price at the UN says his words were particularly pointed. They came after weeks of acrimonious debate among members over their blueprint for future international action.

Outgoing General Assembly President Jean Ping, of Gabon, presented delegates with a compromise text:


HAVE YOUR SAY
The UN can only be as strong as governments allow it to be
Su, Vermont, Australia

Send us your comments

* No international definition of terrorism, although hope remains for an agreement during the summit

* Plans to reform the UN's much-criticised Human Rights Commission deferred to the General Assembly

* Commitment to break down trade barriers substantially weakened

* Creation of a peace-building commission to help nations emerging from war agreed, as well as an obligation to intervene when civilians face genocide and war crimes

* Development section backing the UN's Millennium Development Goals, a long-term strategy for eliminating world poverty.

A spokesman for the UK-based aid agency Oxfam criticised the compromise deal and accused several countries of undermining the plan.

But the agency welcomed the anti-genocide move.

"This is an achievement worthy of the 60th anniversary of an organisation set up to save generations from the scourge of war," the agency said in a statement.
Source: www.bbc.com
http://news.bbc.co.uk/2/hi/americas/4245924.stm
Support Caprivi Freedom
Fill out the form below to become a member of this site and receive our regular newsletter.