News and Information
---
Guantanamo hunger strike staged
September 2, 2005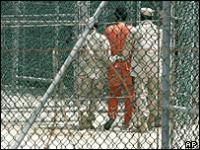 Detainees previously went on a hunger strike in July
Scores of detainees at the US prison camp at Guantanamo Bay in Cuba have begun a hunger strike, human rights lawyers have said.
The prisoners, many of whom have been held for more than three years without charge, are believed to be demanding an immediate trial or release.

Lawyers for the detainees say about 200 are refusing all food. Military officials put the number at 76.

A hunger strike in July ended when the Pentagon agreed to talk to inmates.

The prisoners have now restarted that action, accusing officials of reneging on their promise to negotiate, amid allegations of mistreatment.

Humane treatment

The lawyers say one prisoner has written a will in anticipation of starving to death.

Gitanjali Gutierrez, of the New York-based Center for Constitutional Rights, representing some of Guantanamo's 500 or so prisoners, said the Pentagon had denied them proper legal access.

The policy had "driven detainees to strike until they die or are afforded a fair hearing and humane treatment", he told the AFP news agency.

The Pentagon has said only 76 detainees are refusing food, not the 200 claimed by the lawyers, but has not said when the protest began.

During the previous hunger strike, the prisoners were monitored by medical professionals and admitted to hospital where necessary.


Source: www.bbc.com
http://news.bbc.co.uk/1/hi/world/americas/4206908.stm
Support Caprivi Freedom
Fill out the form below to become a member of this site and receive our regular newsletter.