News and Information
---
US sees full relations with Libya
August 23, 2005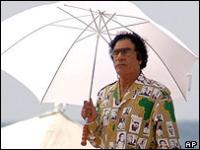 Libya's Col Muammar Gaddafi
Col Muammar Gaddafi has invited US President George Bush to visit
The US has suggested it could restore full diplomatic relations with Libya if Tripoli addresses concerns over democracy and its human rights record.

The US state department said if Tripoli made continued progress, it would "meet their acts of good faith in return".

US officials are negotiating opening an embassy in Tripoli and Libya's removal from a list of state terror sponsors.

The countries have been rebuilding ties since Libya gave up the pursuit of weapons of mass destruction in 2003.

Diplomatic relations were formally resumed in June 2004, when the US opened a liaison office - a lower-level diplomatic post - in Tripoli

Bush invited

A two-day visit to Tripoli at the weekend by a senior US senator has been seen as the next step in improving the relationship, following decades of hostility.

Senator Richard Lugar confirmed the US was discussing Libya's removal from a US list of alleged state sponsors of terrorism and the opening of an embassy.


If they continue to make progress along the pathway that we have laid out, we, again, will meet their acts of good faith in return
Sean McCormack
US State Department spokesman

Mr Lugar's trip prompted Libyan leader Col Muammar Gaddafi to extend an invitation to US President George W Bush and Secretary of State Condoleezza Rice to visit next.

Meanwhile Mr Gaddafi's son, Seif al-Islam Gaddafi, told the AFP news agency on Monday he expected to see the two countries reopen embassies "in the next few days".

But US state department spokesman Sean McCormack said that while relations between the countries had been "dramatically different" since 2003, Libya still had more to do.

Tony Blair shakes hands with Colonel Gaddafi
Tony Blair's high-profile visit to Libya marked a thaw in relations

"We are engaged with them on a variety of issues. You mentioned human rights, you mentioned democracy, you mentioned issues of terrorism," he told reporters.

"If they continue to make progress along the pathway that we have laid out, we, again, will meet their acts of good faith in return."

Relations started to improve after Libya accepted responsibility in 2003 for the 1988 bombing of a Pan Am plane over Lockerbie, in Scotland, and agreed to pay $2.7bn compensation.

UK Prime Minister Tony Blair held high-profile talks with Mr Gaddafi in a Bedouin tent on the outskirts of Tripoli in March 2004.

The reconciliation was eased by Libya's offer to cooperate in investigating the murder of policewoman Yvonne Fletcher outside the Libyan embassy in London in April 1984.

Libya's relations with France, strained by its alleged involvement in the bombing of a French airliner in 1989, were restored after Tripoli agreed to pay $170m in compensation.
Source: www.bbc.com
http://news.bbc.co.uk/2/hi/africa/4176180.stm
Support Caprivi Freedom
Fill out the form below to become a member of this site and receive our regular newsletter.