News and Information
---
Appointment of defence lawyer clears way for start of second treason trial
August 23, 2005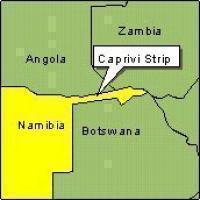 *WERNER MENGES

THE last remaining obstacle that has been preventing the start of a second Caprivi high treason trial for the past three months was quietly removed by the Directorate of Legal Aid last week, when a veteran lawyer was instructed to represent one of the twelve men who will be in the dock once the trial begins.

An urgent application in which Legal Assistance Centre Director Norman Tjombe was set to ask the High Court to order the Director of Legal Aid to provide high treason suspect John Mazila Tembwe with a defence lawyer who is working in private practice, was scheduled to be heard yesterday.

Tembwe is one of the twelve men being prosecuted in a second criminal case over an alleged attempt to secede the Caprivi Region from Namibia some six years ago.

The urgent application however did not proceed, after the Legal Aid Directorate abandoned its opposition to Tembwe's insistence on being provided with a private lawyer for his defence and last week appointed a veteran defence lawyer, Zagrys Grobler, to represent Tembwe during the upcoming trial.

Legal Aid Director Vero Mbahuurua said yesterday that he decided to instruct a lawyer in private practice to represent Tembwe in an attempt to prevent any further delays in the start of the second treason trial.

Mbahuurua said he had realised that if the Directorate continued to oppose Tembwe's High Court application, and if that matter went on appeal to the Supreme Court after the High Court had ruled on it, it might take as long as a year still before the trial would begin.

Having weighed up the costs of such a long further delay in the trial, he decided that it would be better to appoint a private defence counsel for Tembwe and to get the trial under way sooner rather than later, Mbahuurua said.

The Legal Aid Directorate initially instructed only one lawyer, Nate Ndauendapo, to represent Tembwe and his eleven co-accused during the trial.

A Legal Aid counsel, Duard Kesslau, was subsequently instructed to represent Tembwe after Ndauendapo pointed out to the High Court during one of the 12 accused men's pre-trial appearances that a conflict of interest might arise between Tembwe and the other men if the same lawyer continued to represent all of them during the trial.

It is understood that the cause of this expected clash of interests is a lengthy alleged confession that Tembwe had made before a magistrate after his arrest in September 2002.

Tembwe however objected to being provided with Kesslau as his defence counsel, and insisted that he did not want any lawyer in the direct employ of Government - which he said was the same authority that in the first place caused him to be arrested and prosecuted - to represent him at his trial.

Mbahuurua's initial response was that in his opinion the Legal Aid Directorate had carried out its duty to provide Tembwe with legal representation, and that was to be that: Tembwe would either have had to accept Kesslau as his lawyer, or forgo legal representation provided through the Legal Aid Directorate.

That stance has clearly been altered in the meantime.

It is a course of action that Acting Judge John Manyarara urged the Director to take more than two months ago already, when the Acting Judge granted Tembwe a postponement of the trial at Tjombe's request, and remarked in his ruling: "For what it is worth, it seems to me that the saving in court time and expense of the whole trial is worth the additional expense of appointing a private lawyer to represent the applicant (Tembwe)."

In Grobler, Tembwe has now been provided with one of Namibia's most experienced legal practitioners as his defence counsel.

Grobler started his legal career in 1970, and has been practising law in Namibia since 1982.

Grobler said yesterday that a copy of the Police docket in the case against Tembwe and his co-accused had been delivered to him last week.

He still needs to study the docket, but said he was expecting that he would be ready to start with the trial when the case returns to the High Court on September 19.

The State, too, will be ready to start with the trial, Deputy Prosecutor-General Danie Small, who is set to lead the prosecution against the twelve, said yesterday.

All twelve accused are in Police custody pending the finalisation of their trial on charges of high treason, sedition, public violence and illegal importation and possession of arms and ammunition.

They were arrested in four separate groups and on four separate occasions between July 18 2002 and December 12 2003.
Source: www.namibian.com.na
http://www.namibian.com.na/
Support Caprivi Freedom
Fill out the form below to become a member of this site and receive our regular newsletter.