News and Information
---
Tamil Tigers agree to peace talks
August 18, 2005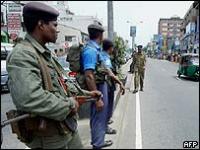 The emergency powers allow the government to deploy troops freely
Tamil Tiger rebels in Sri Lanka have agreed to hold direct talks with the Colombo government.
The move comes less than a week after the killing of the country's Foreign Minister, Lakshman Kadirgamar, near his heavily-guarded home in the capital.

The talks will be the first high-level meeting between the two sides since the peace process stalled in 2003.

Norwegian mediators described the talks as a significant step forward for the process.

Norway's Deputy Foreign Minister Vidar Helgesen said the Tamil Tigers had agreed to discuss ceasefire implementation with the government.

Pressure

The assassination of Mr Kadirgamar was seen as a major setback to Sri Lanka's peace process.

TAMIL TRUCE
Feb 2002: Government and Tigers sign ceasefire paving way for talks
Dec 2002: Both sides agree to share power with autonomy for Tamils in north and east
Apr 2003: Tigers suspend talks claiming marginalisation
Mar 2004: Renegade Tiger leader splits group in east
Jul 2004: Suicide blast in Colombo - first since 2001
Dec 2004: Tamil areas badly hit as tsunami strikes
Jun 2005: Aid deal reached with Tigers amid protests
Aug 2005: Tigers agree to high-level peace talks with the government


Security fears

The government introduced emergency rule after the killing, allowing it to deploy troops throughout the country.

The Tigers, who have been fighting for a separate nation for the minority Tamils in the north and east of the country since 1983, have been blamed for his death.

They deny any involvement in the assassination.

The BBC's Dumeetha Luthra, in Colombo, says the rebels are now under heavy pressure to show they are maintaining peace in Sri Lanka.

Before the killing, the group had refused to consider talks until the government disarmed paramilitaries who the Tigers said were operating in government-held areas.

The date and place of the talks is still to be decided.

The meeting is expected to include both military and political personnel.


Source: www.bbc.com
http://news.bbc.co.uk/2/hi/south_asia/4164150.stm
Support Caprivi Freedom
Fill out the form below to become a member of this site and receive our regular newsletter.