News and Information
---
Gaza settler bastion 'near empty'
August 18, 2005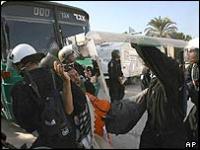 about a quarter of Jewish settler remain to be evacuated
The Israeli military says it is close to completing the eviction of the largest settlement in the Gaza Strip.
On the second day of removals, troops expelled settlers activists who had barricaded themselves in a synagogue at Neve Dekalim, in southern Gaza.

There was determined but non-violent resistance, and emotions ran high as those inside were dragged away.

The most violent confrontation took place at Kfar Darom, another stronghold of resistance to Gaza withdrawal.


The operation to evict settlers who had ignored orders to leave began on Wednesday, when most of the settlements were peacefully cleared.


Click here for a map of the settlements
On Thursday, thousands of unarmed troops tackled hardline settlers who remained and the thousands of sympathisers who had joined them.

First troops cleared the synagogue at Neve Dekalim, where hundreds of protesters had gathered.




In Pictures: Hardliners resist
Pullout at-a-glance
The BBC's Richard Miron - who was inside the building - says there was a great deal of shouting and singing by the demonstrators as soldiers moved in.

But there was no violence as those inside were carried out one by one, many of them screaming or crying.

In Kfar Darom - one of the more radical settlements - police also stormed the synagogue.

Later soldiers backed with a water cannon battled young protesters who had taken refuge behind coils of barbed wire on the roof top.

The activists pelted security forces with sand, foam and liquid. Several officers suffered slight burns after acid was thrown at them.

Restraint praised

Troops on Thursday also cleared the beachside community of Shirat Hayam, believed to be the most radical of all, dragging settlers out of their homes and hauling them onto buses.


Troops backed with a water canon clashed with Kfar Darom activists
"This is one of the saddest moments of my life. It's disgusting throwing these Jews out of here," a sympathiser told AFP news agency.

"Shame on you," shouted residents as a bulldozer smashed its way into the settlement of Netzer Hazani.

At Kfar Yam, police ended a stand-off with an armed settler who had threatened to open fire on troops if they tried to remove him.

The settlement was also cleared.

By late on Thursday most of the settlements had been vacated. Officials said only 25% of Jewish families remained in Gaza.

The head of the Israeli army's Southern Command, Gen Dan Harel, praised both the security forces and settlers for limiting the levels of confrontation.

Israeli officials say the mission is going faster than expected and may be over within days, instead of the scheduled six weeks.

The unilateral Gaza withdrawal marks the first transfer of Palestinian land seized by Israel in 1967.


Source: www.bbc.com
http://news.bbc.co.uk/2/hi/middle_east/4164530.stm
Support Caprivi Freedom
Fill out the form below to become a member of this site and receive our regular newsletter.