News and Information
---
Zimbabwe's Cosafa heroes get land
August 18, 2005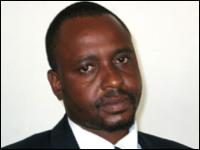 Zifa's Jonathan Mashingaidze says more rewards are on offer
Zimbabwe's government will reward the country's football team that recently won the Cosafa Cup by giving them residential plots of land.
The Warriors beat Zambia 1-0 on Sunday to win the Southern African championship for a third time.

The plots will be allocated under housing construction projects which followed on from the government's controversial clean-up campaign.

Illegally-built houses and structures were demolished in a nationwide operation in June and July, and ironically some footballers were among those affected.

A United Nations report claimed that 700,000 people lost their homes, figures that government says are "grossly exaggerated."

Deputy minister Morris Sakubaya announced that the team will be given 18 plots of land.

"As a token of appreciation, my ministry will facilitate you to obtain stands (plots) in urban centres of your choice where we are carrying out housing projects," he said.

It is not clear which players will benefit, as more than 18 took part in the four matches during the Warriors' Cosafa campaign.

"It will be needs-based, we can't have our ambassadors living in slums and shacks," Zimbabwe Football Association chief executive Jonathan Mashingaidze told BBC Sport.

"This type of incentive is the right route to take, and we hope that there will be more plots for the Warriors if we qualify for the Nations Cup finals."



Source: www.bbc.com
http://news.bbc.co.uk/sport2/hi/football/africa/4163960.stm
Support Caprivi Freedom
Fill out the form below to become a member of this site and receive our regular newsletter.