News and Information
---
Last Moroccan war prisoners freed
August 18, 2005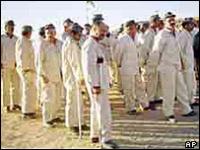 More than 2,000 of Moroccan PoWs have been released over the years
The last Moroccan prisoners of war held by a group fighting for independence in Western Sahara have been released.
The 404 men, detained in southern Algeria for almost 20 years, will be reunited with their families in Morocco later on Thursday, the Red Cross says.

They were the world's longest-serving prisoners of war. The Polisario Front said it hoped the release would clear the way for peace in Western Sahara.

The area has been disputed since Spain pulled out in 1975.

Neighbouring Morocco invaded, claiming Western Sahara should be part of its territory.

Gesture

The International Committee of the Red Cross says the latest release marks an important step towards resolving the humanitarian consequences of the conflict in Western Sahara.

But the organisation adds that work remains to be done establishing what happened to all those who went missing during the conflict.

Over the years, the Red Cross has repatriated more than 2,000 prisoners captured in Western Sahara.

Polisario Front said "the gesture" should smooth the way to peace.

"We hope thus to contribute to the reduction of the suffering of the Saharawi people in the territories occupied by Morocco as well as contributing towards a just and lasting resolution of the conflict," Polisario's Europe representative Mohamed Sidati said in a statement, AP reports.

International opinion over Western Sahara is divided.

The United Nations views it as a disputed territory; the African Union recognises its independence.

The UN-backed peace plan includes a referendum on self-determination for the Saharawi people, but Morocco has refused to accept any loss of control over the area.


Source: www.bbc.com
http://news.bbc.co.uk/2/hi/africa/4162790.stm
Support Caprivi Freedom
Fill out the form below to become a member of this site and receive our regular newsletter.