News and Information
---
Israel expels Gaza Strip settlers
August 17, 2005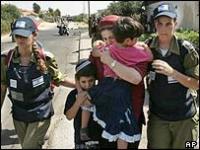 Gaza evictions
Israeli police and troops are evicting Jewish settlers who have defied the deadline to leave the Gaza Strip.
Troops have been entering homes and taking people away. Many kicked and screamed as they were hauled onto buses to be resettled.

The military told the BBC the operation was going smoothly, with less violence than expected.

But in the northern West Bank, a settler killed three Palestinians and several others in a shooting incident.

The settler seized a gun from a security guard in the industrial zone of Shiloh settlement and fired into a group of Palestinians.

The gunman has been arrested. There is no word on his motive.


Click below to see a detailed map of the Israeli disengagement plan


Enlarge Map


Both Israeli Prime Minister Ariel Sharon and Palestinian leader Mahmoud Abbas have condemned the shooting and appealed for calm.

In the Gaza Strip, officials said the operation to dismantle all 21 settlements could take six days - far quicker than the original estimate of six weeks.

In Neve Dekalim - the largest settlement in the Gaza Strip - police have been going from house to house to persuade the remaining settlers to leave.

Some boarded buses voluntarily and a few were carried off.

One woman was dragged away by female soldiers shouting: "I don't want to, I don't want to."

Sledgehammer

The BBC's Richard Miron in Neve Dekalim says the sights and sounds of protest are everywhere as smoke from burning rubbish hangs over the synagogue.

Similar scenes have been replicated elsewhere in the Gaza Strip.


Some protesters set up burning barricades to stop troops
By Wednesday evening, several settlements - including Tel Katifa, Bedolah, Nissanit, Morag, and Slav - had been entirely vacated, while others were emptying quickly.

Settlers in some farming communities were seen burning their homes rather than leave them to the Palestinians.

Troops are preparing to storm the gates of the Shirat Hayam settlement, where hardliners have barricaded themselves in.

About half of Gaza's 8,500 settlers had refused to leave by the deadline.

Those being expelled also include 5,000 hardliners from Israel and West Bank who had joined them.

The pullout marks the first removal of settlements from Palestinian areas.

Hamas reaction

Earlier Prime Minister Ariel Sharon praised the troops for showing "great sensitivity" in the operation.

Attack me - I am responsible for this

Ariel Sharon


Reporters' Log: Gaza pullout
Pullout at a glance

He said he had been moved to tears at the sight of settlers being taken from their homes, but warned them not to vent their anger on the troops.

"I want to appeal to everyone not to attack the police and ... soldiers and not to blame them or make things difficult for them," Mr Sharon said in a televised address.

"Attack me. I am responsible for this. Attack me. Blame me."

Responding to the events, a leader of the Palestinian militant group Hamas said Israel's non-violent pullout was appreciated by all sides.

But Mahmoud Zahar told the BBC Palestinian resistance would grow if Israel continued to expand settlements in the West Bank.

Mahmoud Abbas has formed a working group to co-ordinate the takeover of the settlements once the Israelis leave, which will include representatives of Hamas and Islamic Jihad.


Source: www.bbc.com
http://news.bbc.co.uk/2/hi/middle_east/4159958.stm
Support Caprivi Freedom
Fill out the form below to become a member of this site and receive our regular newsletter.