News and Information
---
Bissau election results confirmed
August 10, 2005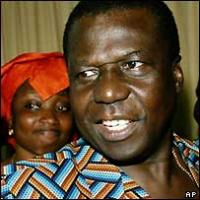 Joao Bernardo Vieira
Mr Vieira first came to power in a coup in 1980
Guinea-Bissau's electoral commission has confirmed that Joao Bernardo Vieira won last month's elections, with 52% of the vote in a second round run-off.

The commission has dismissed complaints by losing candidate Malam Bacai Sanha.

But Mr Sanha immediately said that his party, which has a parliamentary majority, would not accept the results.

The army chief of staff has urged people in the capital to remain calm following fears of clashes between rival supporters.

"The military forces will never tolerate trouble that could threaten peace and internal stability," said Gen Tagme Na Wai.

"There is no war in Guinea-Bissau and those who try to provoke [one]... will pay for their actions."

'Robbed'

Mr Vieira's supporters took to the streets to celebrate before quickly dispersing, fearing clashes with Mr Sanha's PAIGC supporters, Reuters news agency reports.

Mr Sanha had said that he would not be able to control his supporters if preliminary results from the 24 July poll were declared valid.

But on Wednesday, he urged his supporters to remain calm, while still insisting that he was the rightful winner.

"The long time it has taken the election commission [to announce the final results] leads us to think that it was indeed the PAIGC that won the elections and our victory has been robbed," he said.

Guinea-Bissau has been plagued by coups and instability since its independence from Portugal in 1975.

Mr Vieira ruled Guinea-Bissau with an iron fist from 1980 until 1999, when he was overthrown in a bloody civil war.

Both candidates had previously promised to respect the outcome of the election, which European monitors said was "calm and organised".
Source: www.bbc.com
http://news.bbc.co.uk/2/hi/africa/4139482.stm
Support Caprivi Freedom
Fill out the form below to become a member of this site and receive our regular newsletter.