News and Information
---
AU seeks Mauritania junta talks
August 10, 2005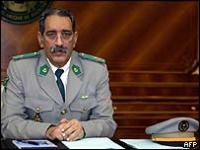 Mauritania's self-appointed head of state Col Ely Ould Mohamed Vall
Mauritania's new rulers have pledged to stand aside peacefully
African Union officials have gone to Mauritania to meet the junta which seized power in a bloodless coup.

The delegation - which includes ministers from Nigeria and South Africa - will urge that constitutional rights be restored.

The visit came as ousted leader Maaouiya Ould Sid Ahmed Taya pledged to return to power and called on the army to re-instate him.

The AU, as well as the EU and USA, had initially condemned the coup.

"As the president of the republic, I order officers, non-commissioned officers and soldiers of the armed forces and security forces to put an end to this criminal operation in order to restore the situation to normal," Mr Taya told Al-Arabiya television.

Speaking from Niger, where he fled as the military council seized power during his trip to Saudi Arabia for the funeral of King Fahd, Mr Taya said: "I will return, God willing, to the homeland in order to pursue all together our mission for a better future."

Reports late on Tuesday said Mr Taya had gone on from Niger to Gambia.

Rules changed

Despite their initial objections, many international observers are now re-assessing their opinions of the 17-strong military council which seized power last Wednesday.

Map of Mauritania
"The international community had to condemn the coup out of principle. A coup is a coup," one western diplomat in Nouakchott told the Reuters news agency.

"But the team that took over has a lot of support here."

The international community appears ready to accept the outcome of the coup, dependent on assurances that the junta holds democratic elections within two years.

"The principle of the AU is not to agree with coups," William Mokou, South Africa's ambassador to Mauritania, told Reuters.

"But we believe we shall not have one policy to fit every situation."

Domestic backing

The coup has proved initially popular with Mauritanians, many of whom were exasperated by two decades of repression under Mr Taya.

Thousands of people flocked through the streets when news of the coup emerged last week.

Within hours all the country's opposition parties backed the new rulers, with Mr Taya's own party, the Social Democratic Republican Party (PRDS), also throwing its weight behind the junta.

The interim leader, Col Ely Ould Mohamed Vall, has pledged to hold elections within two years and to forbid any member of the military junta from standing for office in that contest.

But the ousted president has refused to accept the loss of his position.

"I am determined to return to Nouakchott to continue the job of building our nation," he said during his television statement.

Mr Taya was criticised for his heavy-handed rule, and recently oversaw a crackdown against political opponents.
Source: www.bbc.com
http://news.bbc.co.uk/2/hi/africa/4135350.stm
Support Caprivi Freedom
Fill out the form below to become a member of this site and receive our regular newsletter.