News and Information
---
Riots after Sudan VP Garang dies
August 1, 2005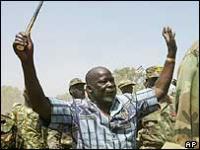 Garang returned to Sudan in triumph after January's peace deal
Large-scale riots have broken out in Sudan's capital Khartoum following the death of the country's vice-president, former rebel leader John Garang.
The BBC's Jonah Fisher in Khartoum says gangs of youths, thought to be from southern Sudan like Mr Garang, are on the streets and gunfire can be heard.

Mr Garang died in a helicopter crash as he was returning from Uganda.

He signed a deal to end 21 years of civil war in January and was sworn in as vice-president three weeks ago.

Roadblocks have been set up and access to the airport has been cut off, a European diplomat in Khartoum told the AFP news agency.

There is a heavy military presence on the streets, while burning cars are sending plumes of smoke over the capital.

There are also reports of unrest elsewhere in Sudan.

Peacemaker

Our correspondent says Mr Garang's importance in holding together southern Sudan cannot be overstated.

He was greeted as a peacemaker by more than one million people when he was sworn in three weeks ago as part of a deal ending a 21-year civil war.

We are confident that the peace agreement will proceed as it was planned and drawn up

Sudanese President Omar al-Bashir


Obituary: John Garang
Reaction in quotes
Three days of national mourning have been declared.

Mr Garang was returning to his base in New Site in southern Sudan after flying to Uganda to meet President Yoweri Museveni.

Six of his associates and the seven-member crew of the Mi 72 Ugandan presidential helicopter also died in the crash, which is being blamed on bad weather.

Mr Garang's deputy in the Sudan People's Liberation Movement, Salva Kiir Mayardit, will take control of the former rebel group, the SPLM said.

Mr Mayardit said the SPLM remained committed to the peace agreement Mr Garang signed in January and urged all Sudanese to remain calm.

SPLM officials stressed that Mr Garang's death had been an accident.

Iron hand

Sudan's President Omar al-Bashir said he was confident that the peace agreement would remain on course.


Salva Kiir Mayardit has taken control of the SPLM
The mediator in the long-running Sudanese peace talks, Kenyan General Lazaro Sumbeiywo, said it was clear from the peace agreement that whoever became SPLM leader would also take over as Sudan's vice-president.

Mr Garang's widow, Rebecca, told the BBC that the people of Sudan should carry on with his vision.

Mr Garang steered the mainly Christian and animist SPLM through a bloody war against the Islamic government in the north, which left at least 1.5 million people dead.

He ruled the disparate movement with an iron hand, and managed to keep it together.

The conflict in Sudan ended with the signing of a peace agreement in January and Mr Garang became vice-president in a new government of national unity.

With his death the future of peace in Sudan is once more in the balance, correspondents say.


Source: www.bbc.com
Support Caprivi Freedom
Fill out the form below to become a member of this site and receive our regular newsletter.