News and Information
---
Tube bomb suspect held by police
July 27, 2005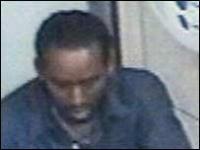 Yasin Hassan Omar
Yasin Hassan Omar is suspected of attempting an attack on 21 July
Suspected bomber Yasin Hassan Omar has been arrested by police in Birmingham investigating the failed 21 July attacks in London.

Omar, 24, suspected of the attack near Warren Street Tube station, was held in a dawn raid after being stunned with a Taser gun, the BBC has learnt.

It is believed a rucksack he was carrying at the time was thrown out of a window by officers.

He is now thought to be at London's Paddington Green police station.

In other developments:

* Police searched two properties in Enfield and Finchley, north London

* Two people were held in Grantham, Lincolnshire, on a train travelling to King's Cross, under the Terrorism Act 2000 at 2300 BST on Tuesday following information from two off-duty Met police officers. The two were released without charge on Wednesday after police said they were not connected to a terrorist threat

* A man who was detained under the Terrorism Act at Luton Airport has been allowed to continue his journey to Nimes in France. Police said they had responded to reports the man looked like one of the bombing suspects and he was held while his identity was checked

* The body of innocent Jean Charles de Menezes, 27, who was shot by officers at Stockwell Tube, is to be returned to Brazil for a funeral

* Prime Minister Tony Blair described the Birmingham arrests as "an important development".

In Birmingham, shortly after the man believed to be Omar was arrested early on Wednesday, a further three men were detained at a separate address and were being held in the city.

The first man was arrested in Heybarnes Road, in the Small Heath area of Birmingham, at 0430 BST on Wednesday, and later taken to London.

A suspect device found with him is being examined and a controlled explosion is planned.


WHO IS BEING HELD?
27 July - Man arrested in Small Heath, Birmingham
27 July - Three men arrested in Ward End, Birmingham
25 July - Man arrested near Curtis House, north London
24 July - Man arrested near Curtis House
23 July - Man arrested in Tulse Hill, south London. Held until 30 July
22 July - Two men arrested in Stockwell, south London. One was released on 27 July and the second is still being held

His detention followed a joint operation between West Midlands Police and officers from the Metropolitan Police Anti-Terrorist Branch.

The BBC's home affairs correspondent Daniel Sandford said a key question is whether the suspect will co-operate with police.

Police will want to know where the other three men are, who was the mastermind behind the 21 July bombings, and - if they are linked to the 7 July bombings - who the mastermind was behind the first attack, our correspondent said.

In exchange for such information, a suspect could expect a "discount" on any possible sentence, he said.

Railway station

Although the suspect was shot with a stun gun, police say no firearms were used.


They are capable of killing again - we must find them
Sir Ian Blair - Met Commissioner

Tracks of the bomb suspects
Q&A: Taser guns
Have Your Say

Following Army advice on the suspect package, residents of about 100 neighbouring homes were evacuated.

A second address in Bankdale Road, in Ward End, Birmingham, was raided a little later, and three men were arrested under the Terrorism Act 2000.

Forensic tests are taking place at both addresses in Birmingham.

Mr Blair praised the police for their efforts, saying they have "been working extraordinarily hard on this and have shown a tremendous amount of commitment and dedication to the task in hand".

"I think it is an important development," he added.

'Flat out'

Meanwhile, a flat in north London linked to two of the 21 July suspects is being searched, and police say chemicals found there and in a garage may have been intended for use in explosives.

Bomb disposal officer in Birmingham
Bomb disposal officers were called in to deal with a suspect device

A resident living near the flat said she had seen one of the suspects outside her home on the day after the failed bombings.

Police have linked Omar and Muktar Said Ibrahim, 27 - also known as Muktar Mohammed Said - to the flat in the 12-storey Curtis House, in Ladderswood Way, New Southgate.

A white VW Golf, seized in nearby East Finchley on Tuesday, may have been used by one of the suspects, security sources said.

Before Wednesday morning's arrests, five people had been held under anti-terror laws in connection with the inquiry.

None of them is thought to have been among the failed bombers and one was released on Wednesday.

TRACKS OF THE BOMB SUSPECTS
All journeys started between 12:20 and 12:25. Times approx.

OVAL: Man boards northbound Northern Line train at Stockwell and tries to set off bomb between Stockwell and Oval, where he leaves the train. He is chased out of the station at 1235 BST, but escapes towards Brixton.

HACKNEY: Man, identified by police as Muktar Said Ibrahim - or Muktar Mohammed Said - also sets off from Stockwell. Boards Number 26 bus at 1253 at Bank. Police believe he was carrying bomb in a grey and black rucksack, and tried to detonate bomb while on board. Gets off in Hackney Road, near junction with Columbia Road, at 1306.

WARREN STREET: Man who police believe is Yasin Hassan Omar boards Tube train at Stockwell carrying a purple rucksack that they say contained a bomb. Later tries to set off bomb on a northbound Victoria Line train between Oxford Circus and Warren Street, detectives say. Seen without rucksack at 1240 in Warren Street Station before running towards exit and vaulting over ticket barriers.

SHEPHERD'S BUSH: Man wearing dark blue baseball cap and carrying small rucksack enters Westbourne Park Tube station and gets a train travelling towards Shepherd's Bush on Hammersmith & City Line. Tries to set off bomb at 1225 before escaping, probably through window at the end of the carriage, and running along the tracks.
Source: www.bbc.com
http://news.bbc.co.uk/2/hi/uk_news/4720027.stm
Support Caprivi Freedom
Fill out the form below to become a member of this site and receive our regular newsletter.