News and Information
---
China will 'protect Mugabe at UN'
July 27, 2005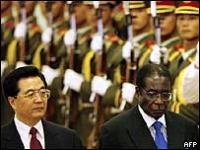 Chinese President Hun Jintao ( l) and President Robert Mugabe (r)
Mr Hu (l) promised to help Zimbabwe
China will use its veto to stop the United Nations Security Council from criticising Zimbabwe's slum clearance, President Robert Mugabe says.

The UK and the US have asked the Security Council to discuss the demolitions, after a UN report said 700,000 had been made homeless.

Mr Mugabe is on a week-long visit to China, seeking help with Zimbabwe's economic crisis and foreign loans.

He has signed a trade deal with China, of which the contents remain unknown.


China will never allow that nonsense to happen
Robert Mugabe

China's growing role in Zimbabwe

UN Secretary General Kofi Annan had said he would visit Zimbabwe but has now clarified that this would not happen until the demolitions end.

'Nonsense'

Despite pleas for an end to Operation Murambatsvina [Drive Out Rubbish], riot police continue to demolish illegally-built structures in the capital, Harare.


The scale of suffering is immense, particularly among widows, single mothers, children, orphans, the elderly and disabled persons
Report increases pressure
UN report in full (1.6K)
Most computers will open PDF documents automatically, but you may need to download Adobe Acrobat Reader.
Download the reader here
Mr Mugabe says the demolitions are intended to weed out criminals and black-market traders he accuses of bringing down the economy.

Asked about the moves to discuss the demolitions at the Security Council, the state-owned Herald newspaper quotes Mr Mugabe as saying: "I know, of course, China will never allow that nonsense to happen".

Details of the trade deal signed by Mr Mugabe and Chinese President Hu Jintao have not been made public but it is expected to involve loans in exchange for trade and mineral concessions.

Zimbabwe has adopted a "Look East" policy since increasing criticism from the west for alleged human rights abuses and electoral fraud.

Mr Mugabe has also asked South Africa for help repaying its debts to avoid expulsion from the IMF.

Prosecution urged

Last week's UN report said the campaign violated international law and Mr Annan himself called it a "catastrophic injustice" to Zimbabwe's poorest.

The UN report was compiled by Mr Annan's special envoy, Anna Tibaijuka, after a two-week fact-finding mission to Zimbabwe.

Homeless family
Mr Mugabe says the demolitions are aimed at criminals
The report found that programme had been carried out in "an indiscriminate and unjustified manner, with indifference to human suffering".

It said Zimbabwe's government was collectively responsible, and it urged prosecution of those who "may have caused criminal negligence".

But Zimbabwe said the allegations were "definitely false" and that the report showed an "in-built bias".

The Zimbabwean opposition says the evictions are meant to punish urban residents, who mostly vote against the government.
Source: www.bbc.com
http://news.bbc.co.uk/2/hi/africa/4721189.stm
Support Caprivi Freedom
Fill out the form below to become a member of this site and receive our regular newsletter.