News and Information
---
ANC split on Mbeki's future role
July 12, 2005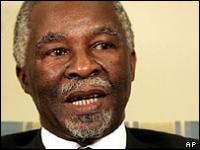 President Thabo Mbeki
President Thabo Mbeki is due to step down in 2009
South Africa's ruling ANC is split on whether President Thabo Mbeki should be allowed to remain party leader after he steps down as national president.

The ANC Youth League has published a statement, saying he should not be allowed to remain as ANC leader after he leaves his national job in 2009.

But the ANC spokesman told the BBC there was nothing to stop Mr Mbeki from seeking re-election in the party.

This is the latest fall-out from the sacking of Deputy President Jacob Zuma.

The Youth League supports Mr Zuma and some see Mr Mbeki's comments that he would consider standing for a third term as ANC president as an attempt to prevent Mr Zuma from succeeding him.

'Two centres'

Mr Zuma, previously the firm favourite to succeed Mr Mbeki as South African leader, was sacked last month after his financial adviser was convicted of corruption and fraud.

The ANC Youth League said that if the country and the party had different leaders, there would be "two centres of power".

"We hold an unwavering view that the president of the ANC must be president of the country, as long as the ANC is the ruling party," said a statement on the Youth League website.

ANC spokesman Smuts Ngonyama, however, told the BBC's Network Africa programme that it would be undemocratic for Mr Mbeki to be barred from party elections due in 2007.

He pointed out that at the local levels, council and regional leaders were not necessarily party leaders.
Source: www.bbc.com
http://news.bbc.co.uk/2/hi/africa/4675003.stm
Support Caprivi Freedom
Fill out the form below to become a member of this site and receive our regular newsletter.