News and Information
---
Swazi king rejects constitution
July 12, 2005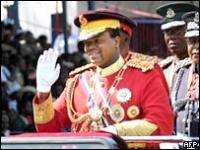 By Thulani Mthethwa
BBC News, Mbabane

King Mswati III
King Mswati has been criticised for his lavish lifestyle
Swaziland's king has refused to sign a new draft constitution because he would be liable to pay MPs salaries should he dissolve parliament prematurely.

King Mswati III is also unhappy about sections on taxing certain royal family members; he is exempt from taxation.

Parliament has also been ordered by the king to re-debate whether Christianity should be the official religion.

Passed by MPs three weeks ago, the constitution guarantees freedom of religion but bars political parties.

Thirty-seven-year-old King Mswati is a Christian and is Africa's last absolute monarch.

He is often criticised for having 12 wives and for his lavish spending, while most Swazis live in poverty and more than 30% are HIV positive.

Conflict

The announcement was made on state-owned radio on Tuesday morning, ordering the Senate and House of Assembly to hold an emergency meeting on Thursday to iron out the matters.


It is not a positive step
Nomthetho Simelane
University of Swaziland

Political commentators view the move as a clear sign of conflict between the king and parliament.

"It means he is not agreeing with parliament by ordering them to re-debate the same document they recently adopted," said Nomthetho Simelane, a political science lecturer at the University of Swaziland.

And although MPs may disagree with the king, she says, they may feel intimidated by the royal order and not want to be seen to be going against him.

"It is not a positive step."

Even if parliament does not approve the changes suggested by the king, he has the power and authority to sign them into law.

Enshrined in the draft constitution is a detailed bill of rights including the right to life, liberty, equality before the law; freedom of conscience and religion and equality for women.

Freedom of expression and assembly is also guaranteed, but political parties are still barred from contesting elections.
Source: www.bbc.com
http://news.bbc.co.uk/2/hi/africa/4676173.stm
Support Caprivi Freedom
Fill out the form below to become a member of this site and receive our regular newsletter.