News and Information
---
Second treason trial still stuck
July 11, 2005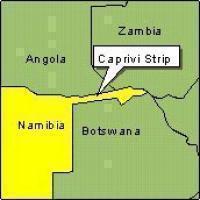 * WERNER MENGES

THE case that is supposed to turn into the second high treason trial of people accused of taking part in an alleged plot to secede the Caprivi Region remained stalled on the starting line in the High Court in Windhoek on Thursday.

The case is now scheduled to return to court on July 29, after Acting Judge John Manyarara was told that one of the 12 accused, John Mazila Tembwe, has still not been provided with a private lawyer who he insists the Legal Aid Directorate should instruct to represent him.

Acting Judge Manyarara urged the Director of Legal Aid three weeks ago to instruct a private lawyer to represent Tembwe, who is refusing to accept the services of a legal aid counsel provided for him by the Director.

Being urged, however, falls short of being ordered.

In the meantime, the Director has refused to instruct a private lawyer to represent Tembwe, the Acting Judge was informed on Thursday.

Legal Assistance Centre Director Norman Tjombe, appearing on Tembwe's behalf to get his legal representation for the trial sorted out, told Acting Judge Manyarara that he had now been instructed to lodge an application with the High Court to review the Director's decision not to provide Tembwe with a private defence lawyer.

Legal Aid Director Vero Mbahuurua commented after the postponement that his directorate had carried out its responsibility by appointing legal aid counsel Duard Kesslau as Tembwe's defence lawyer.

"What is required is to provide legal aid by providing a legal representative.

We have done that.

We have fulfilled our responsibility as far as we are concerned," he said.

Tembwe is refusing to accept the services of a legal aid counsel because, he has told the court, such a lawyer is employed by the same Government that he holds responsible for his arrest and prosecution.

The 12 men are being prosecuted on six charges, including counts of high treason, sedition, public violence and the illegal importation and possession of firearms and ammunition.

All 12 will remain in custody until the case returns to court.

They were arrested and charged with high treason at various times between July 18 2002 and December 12 2003.

Tembwe was arrested on September 13 2002.
Source: www.namibian.com.na
http://www.namibian.com.na/
Support Caprivi Freedom
Fill out the form below to become a member of this site and receive our regular newsletter.