News and Information
---
Ex-rebel leader lands in Khartoum
July 8, 2005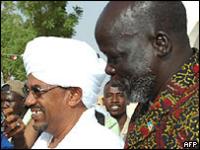 Sudanese President Omar al-Beshir and former Sudanese rebel leader John Garang in Khartoum
John Garang had not visited Khartoum for two decades
Southern Sudanese leader John Garang has been given a rapturous welcome in Khartoum on his first visit to the capital since civil war began in 1983.

Hundreds of thousands of people lined the streets which were decked out in the black, green, white and red colours of his SPLM former rebel movement.

Under January's deal to end 21 years of war, he is due to be sworn in as first vice-president on Saturday.

Until recently, waving an SPLM flag in Khartoum would have invited arrest.

Trees and roofs packed

As Mr Garang and his wife stepped off the plane in the capital, some 100 government ministers and dignitaries lined the red carpet to shake the former rebel's hand.


People climb on buildings in Khartoum to see John Garang
Frankly, we as southerners never expected to see Garang in Khartoum
Khartoum resident

Tight security stopped Mr Garang - who flew from Rumbek, provisional capital of southern Sudan - from meeting his supporters at the airport.

But the BBC's Jonah Fisher in Khartoum says there were chaotic scenes on the streets of the capital where teeming southern Sudanese were anxious to welcome the beginning of a new era.

Huge crowds gathered in central Khartoum's Green Square for a rally, where Mr Garang briefly appeared, waving and blowing kisses to the crowd.

Trees and roofs were packed with everyone straining to catch a glimpse of Mr Garang, who 22 years ago left Khartoum to launch an uprising in the south.

From the top of the stadium there were people as far as the eye could see, our correspondent says.

Optimism

Earlier, President Omar al-Bashir welcomed his former enemy to Khartoum, saying it was a "day of real peace".

"I congratulate the Sudanese people, this is not my peace or the peace of al-Bashir, it is the peace of the Sudanese people," Mr Garang said at an official reception at which the two men shook hands.



Profile: John Garang

Our correspondent says there is great optimism amongst southern Sudanese in Khartoum about the peace deal designed to end two decades of war between the Muslim north and the mainly Christian south that left an estimated 1.5m people dead.

Earlier this week, Sudan's parliament approved an interim constitution, based on the deal, under which power and Sudan's new oil wealth will be shared between north and south, Islamic Sharia law will not be applied in the south and the south will hold a referendum on secession in six years' time.

No Christian or southerner has ever held such a senior position in Sudan's largely Islamic government.

"There was such a huge amount of enmity and bad feelings, you would expect Garang to be killed. But to come to Khartoum, that we never expected," a northern Sudanese lecturer told the AP news agency.

The deal to end the war in the south does not affect the separate conflict in the western region of Darfur.

However, Mr Garang has said he will try to use the deal he agreed as a blueprint to bring peace to Darfur.
Source: www.bbc.com
http://news.bbc.co.uk/2/hi/africa/4663597.stm
Support Caprivi Freedom
Fill out the form below to become a member of this site and receive our regular newsletter.