News and Information
---
Speak out, African leaders told
July 7, 2005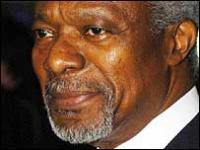 UN Secretary General Kofi Annan
Kofi Annan said one or two countries can affect a whole region
African leaders should speak out against their neighbours if "wrong policies" are followed, United Nations chief Kofi Annan has warned.

Mr Annan told the Financial Times they must not keep quiet if they want to be credible in the eyes of the world.

He did not name Zimbabwe in the interview, but his envoy is visiting the country to assess the demolition of shanty towns making 200,000 homeless.

The West wants African leaders to censure President Robert Mugabe.

The African Union has said the demolitions were an internal matter for Zimbabwe.

"What is important - and what is lacking on the continent - is a willingness to comment on wrong policies in a neighbouring country," Mr Annan said.

Eight African leaders are heading to a meeting of the world's most powerful countries, the G8, at Gleneagles in Scotland, where announcements on aid and debt relief are expected on Friday.

'Breath of fresh air'

Mr Annan said that internal problems in one country can easily spread to become a regional one.

"Nobody invests in a bad neighbourhood and if you have just one or two countries behaving that way, that hurts everybody."

Demolition scene in Zimbabwe
Zimbabwe's government has destroyed 'illegal' housing in recent weeks
On Wednesday, Zimbabwean Archbishop Pius Ncube called on G8 leaders to link African action on President Mugabe to more debt relief and aid.

"The international community has done little to prevent Mugabe's excesses and it is time to act," the Roman Catholic Archbishop of Bulawayo said.

Zimbabwe Health Minister David Parirenyatwa told state-run television that the demolitions were a "breath of fresh air", allowing his officials to improve public health.

He said overcrowding had led to a huge increase in tuberculosis cases, while sewerage facilities had been unable to cope with the influx of people to cities such as Harare.

The Zimbabwe Association of Doctors for Human Rights (ZADHR), meanwhile, warned that the evictions could worsen the Aids crisis as people infected by HIV are forced to leave their homes and so may abandon their treatment.

Meanwhile, a senior UK judge has urged the government to halt all removals of failed asylum seekers to Zimbabwe pending a further High Court hearing.
Source: www.bbc.com
http://news.bbc.co.uk/1/hi/world/africa/4659255.stm
Support Caprivi Freedom
Fill out the form below to become a member of this site and receive our regular newsletter.