News and Information
---
Bush defends US policies in Iraq
July 6, 2005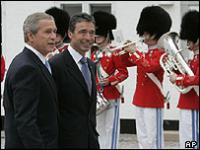 US President George Bush and Danish Prime Minister Anders Fogh Rasmussen
George Bush and Anders Fogh Rasmussen are close allies
US President George Bush has defended his policy on Iraq during a brief visit to Denmark ahead of the G8 summit.

Mr Bush, in Copenhagen to thank the Danes for their support over Iraq and Afghanistan, said his decisions were "laying the foundation for peace".

His visit has sparked anger among some Danes, and a huge security operation is under way to handle expected protests.

Up to 200 people marched to the US embassy on Tuesday, burning US and Danish flags.

Larger demonstrations were expected on Wednesday.

"I understand that people aren't going to agree with decisions I make," Mr Bush said after meeting Danish Prime Minister Anders Fogh Rasmussen.

"I truly believe we're laying the foundation for peace."

On climate change, Mr Bush accepted humans were contributing to global warming but insisted the Kyoto agreement aimed at tackling the issue "didn't work".

He said he would be pushing for a post-Kyoto era at the G8 summit.

Leader on aid

Mr Rasmussen urged the G8 nations to make the fight against Aids their main priority.

He told reporters Denmark had increased funding for combating Aids by 60% over the past four years.

On Africa, Mr Rasmussen said if G8 nations followed Denmark's example, aid to the continent would increase from $25bn (£14bn) to $90bn a year.

Denmark is one of the few countries to surpass the UN's target for aid contributions.

Mr Rasmussen's centre-right government has been a keen supporter of Mr Bush's policies.

It has committed troops to US-led coalitions in both Iraq and Afghanistan.

Mr Bush said of the Danish leader last week: "He's a good man. He's got a good, strong backbone."

Tuesday's demonstrators - many masked and dressed in black - marched in heavy rain with banners reading: "Down with imperialism, down with Bush" and burned US and Danish flags.

Security has been tightened in the capital, with most of the country's 15,000-strong police force thought to be on duty on Wednesday, to cope with rallies that could attract tens of thousands of people.
Source: www.bbc.com
http://news.bbc.co.uk/2/hi/europe/4654899.stm
Support Caprivi Freedom
Fill out the form below to become a member of this site and receive our regular newsletter.