News and Information
---
Gaddafi Urges Africans to Avoid Past Mistakes
July 5, 2005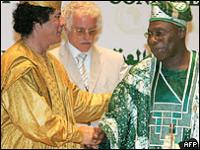 The Post (Lusaka)

July 5, 2005
Posted to the web July 5, 2005

Webster Malido
Sirte

AFRICANS are today paying the price for having aborted Kwame Nkrumah's ideas, Libyan leader Muammar Gaddafi has said.

During the official opening of the fifth African Union (AU) summit in his hometown of Syrte in Libya yesterday, Gaddafi said the African continent was not interested in conditional assistance from the West.

He said Africa needed to overcome the failures which used to be faced by the Organisation of African Unity, the forerunner to the AU.

"I would like to caution you from falling into the same trap. We must improve our mechanisms and think of those who will be assigned the future assignments," Gaddafi, who is also incoming AU chairman, said. "We must avoid repeating the past mistakes."

He said it was difficult for the AU chairman to operate effectively as he did not have any legal status and as such could not come up with binding decisions.

Gaddafi said the structure of the AU should be in such a way that the union was functional and effective in various areas.

He said the national sovereignty of African countries would only be preserved as long as the countries were united around strategic denominators. "We accept interference into our domestic affairs from others and we accept that on behalf of African unity, but our national sovereignty is threatened and violated because of the absence of African unity," Gaddafi said.

He said it was better for national governments to share some of their burdens with the AU.

But he bemoaned the fact that national governments did not have people responsible for implementing AU policies at that national level.

Gaddafi said the establishment of a United States of Africa was not far fetched because "we are one single poor nation. Africa has one specificity. It is one continent."

He recalled that attempts for African unity had been there since 1958 but nothing much had been achieved because Africa was still being haunted by colonial heritage.

"We must get rid of colonial names such as black and white Africa, Sahara Africa. There are people still using African constitutions which were not aimed at unifying Africa and this is a falsification of the history of our achievements. Anyway, constitutions can be amended especially that they have been imported from Europe. For example, we are governed in Libya here by Napoleon's law," Gaddafi said.

"We must adapt our life to our social and economic realities. We must encourage international cooperation for our benefit and based on mutual respect.

There are now proposals for African help, but if they are linked to humiliating conditions, then we do not need that assistance. We don't need other people to dictate us conditions. There is interference in everything."

He said while Africa had a large share of mineral wealth, the continent had not benefited much from that.

"It's a very rich continent but the resources are not exploited and we sell our resources at very low prices for hard currencies. Begging will not make the future of this homeland of Africa," Gaddafi said.

"We thank Mr Tony Blair because he does support Africa but we are not going to beg on the doorsteps of very rich countries. In fact, we are not even poor. We are rich, by the way."

Gaddafi said it was regrettable that there were capitalist pharmaceutical companies from the West whose businesses were thriving on the HIV virus.

He said there was a lot that needed to be done in terms of developing the African continent.

"We have to protect Africa and help countries suffering from drought. All this requires a detailed study. I know that we have to cooperate at international level as well. We are talking about African currency, common market. Also we have to develop human resources in Africa," he said.

Gaddafi reiterated the need to reform the United Nation's Security Council and said that there was a need for democracy within the General Assembly.

He wondered why Africa was always relying on the outside world for peacekeeping missions when the continent had the capacity to do this on its own.

"There are 2.5 million troops in Africa and we spend US$15 billion per year. Why get forces outside Africa?" he wondered.

And Gaddafi praised Nigerian President Olusegun Obasanjo and AU Commission chairperson Alpha Konare for having dealt successfully and peacefully with the Togo political crisis.

And Konare said Africa was on a gradual march towards a known destination. Konare complained that too many promises had been made at too many major meetings but they had not been fulfilled.

"The MDGs (Millennium Development Goals) cannot be made, even in the next century," he said.

He said the gesture by the G8 to forgive debt to 14 out of 18 countries was welcome but the gesture should not be undermined by conditionalities, noting that African countries had for a long time been suffering from the excruciating burden of debt.

"Africa today needs massive funding which neither cancellation of debt nor doubling of official development assistance will solve," he said.
Relevant Links
Southern Africa
Zambia

He said subsidies, especially for cotton growing countries, needed to be addressed, as cotton was a symbol for African countries to combat poverty.

"We need to mobilise resources but embark on concrete projects as well," said Konare.
Source: www.allafrica.com
http://allafrica.com/stories/200507050076.html
Support Caprivi Freedom
Fill out the form below to become a member of this site and receive our regular newsletter.