News and Information
---
Mbeki criticises US over Zimbabwe
February 22, 2005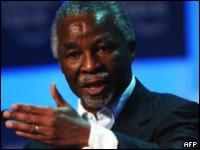 Mbeki criticises US over Zimbabwe

South African President Thabo Mbeki
Mr Mbeki favours an approach of quiet diplomacy
South African President Thabo Mbeki has said the US was wrong to describe Zimbabwe as an "outpost of tyranny".

The US decision to place Zimbabwe alongside Cuba, Belarus, Burma, Iran and North Korea in a list of tyrannical states was "an exaggeration", he said.

The US and EU accuse Zimbabwe's President Robert Mugabe of election rigging and human rights abuses.

But Mr Mbeki said quiet diplomacy rather than outspoken criticism would lead to real change in the country.

"To put all these countries together and say Zimbabwe's one of these outposts of tyranny - how do you justify that?" he told the Financial Times newspaper in an interview.

"It doesn't mean that there's nothing that's gone wrong in Zimbabwe, but to describe it as an outpost of tyranny..."

'Good relationship'

The Zimbabwean government has dismissed the comments - made by US Secretary of State Condoleezza Rice - but warned the US would be in trouble if it tried to invade the country.


The US has imposed targeted sanctions on the Zimbabwean leadership - banning President Mugabe and his associates from travelling to the US, and freezing assets.

The European Union - which has accused Mr Mugabe of using violence against the political opposition and perpetrating human rights abuses - has also renewed its sanctions against the country.

Mr Mugabe accuses the US and the EU of opposing black rule, citing criticism of his policy of seizing the land of white farmers for redistribution to blacks.

Mr Mbeki said the way land distribution is being handled was "incorrect" but said aggressive criticism would not resolve the conflict.

He described his relations with Mr Mugabe as very good and said he hoped an observer delegation from the Southern African Development Community would visit Harare soon to help it with next month's parliamentary elections.
Source: www.bbc.com
http://news.bbc.co.uk/2/hi/africa/4286673.stm
Support Caprivi Freedom
Fill out the form below to become a member of this site and receive our regular newsletter.