News and Information
---
No legal aid for 'Caprivi 15'
February 22, 2005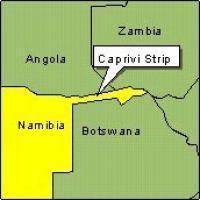 WERNER MENGES

at GROOTFONTEIN

THE ball is back in the court of the 15 Caprivi high treason suspects who have been without legal representation for the past three weeks.

The 15's defence counsel withdrew from representing them after they insisted that they wanted their lawyers to mount a challenge to Namibian courts' and the Namibian state's jurisdiction over the Caprivi Region, rather than letting their trial continue at that stage.

They have now been informed that the Director of Legal Aid will not provide them with legal representation for such a jurisdiction application.

One of the 15, Martin Tubaundule, informed Judge Elton Hoff in the High Court at Grootfontein on Friday that they had received a letter from the Director of Legal Aid on Thursday.

In it, the Director informed them that his Directorate considered a jurisdiction application of the sort that the 15 wanted to launch to be "untenable and futile".

The Director also informed the 15 that they were free to still use their defence counsel's services in the continuing trial on the merits of the high treason case, in which they stand charged with a total of 278 counts.

That means that the 15 will have to decide, when the trial continues tomorrow, whether they will once again give the defence lawyers who had previously represented them instructions on the defence they want to pursue.

The 15 have been refusing to give their lawyers further instructions on that score until their intended jurisdiction application had been heard.

The basis of that application is an argument on the part of the 15 that the Caprivi Region is not, and has never been, legally a part of Namibia, with the result that neither the Namibian state nor Namibian courts have power over that region or are entitled to try people for alleged crimes claimed to have been committed there.

Having lost their legal representation almost three weeks ago, the 15 have also refused to participate in their trial and have chosen not to cross-examine State witnesses who have in the meantime given evidence that may have incriminated some of the 15.

As a result, that evidence is uncontested for now, and may remain so.

Judge Hoff has already warned the 15 that if they chose not to cross-question a witness they would not be given any further opportunities to have the witness recalled to the witness stand.

The latest witness has also mentioned the names of two of the 15, Thaddeus Ndala and John Samboma, and has pointed them out in court, as having been among the people who were involved in the activities of an armed separatist movement in the Caprivi Region in late 1998.
Source: www.namibian.com.na
http://www.namibian.com.na/
Support Caprivi Freedom
Fill out the form below to become a member of this site and receive our regular newsletter.