News and Information
---
Caprivi Region braces for floods
February 22, 2005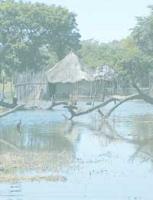 LINDSAY DENTLINGER

THE Caprivi is preparing for another serious flood with the level of the Zambezi River at Katima Mulilo hovering a fraction below two metres yesterday.

Although it is too early to tell whether the eastern floodplains will be as severely hit as in the past two years, people are already being encouraged to move to higher ground.

The Deputy Director of Hydrology in the Ministry of Agriculture, Water and Rural Development, Guido van Langenhove, said yesterday that taking into account that the area is flooded every year, the magnitude of the flood depended on rainfall received in Zambia, from where the Zambezi River enters the Caprivi's eastern floodplains.

He said it was thus difficult to predict at this stage whether the region could expect a major flood this year.

But the Caprivi's Regional Emergency Management Unit (REMU) is taking no chances.

Francis Kooper of the Emergency Management Unit (EMU) said yesterday that the REMU had already submitted its contingency plan for the eventuality of major flooding.

"The flood is coming.

The signs are there that we must be prepared for a flood," said Kooper.

Training is expected to start early next month to prepare emergency officials for assisting those who will be relocated to drier areas.

Last year the region faced the worst floods since 1958 as the river topped the seven-metre mark in early April.

The river as it currently stands at Katima Mulilo is at least 50 centimetres lower than it was at the same time last year.

However, the river as measured at Lukulu in Zambia (300 kilometres north of the border and a rough indication of what is to happen at Katima Mulilo a fortnight later), is slightly higher than at the same time last year, having just reached the four-metre mark.

Traditional chiefs and leaders are already encouraging people to start moving, Kooper said that by moving early, it is hoped that animals would not be caught in the water as happened last year, and more focus could be placed on settling people comfortably rather than being faced with last-minute emergency evacuations.

"If people are reluctant, it won't help us.

They will just aggravate the situation.

We are trying to avoid last-minute evacuations," said Kooper.

Kooper said because last year's operations were forced to concentrate on rescuing people when the river was already at its height, it was too late to save property and animals.

"At this stage things are under control.

If it [a flood] happens, at least we want to make it controllable and avoid an atmosphere of chaos," said Kooper.

The contingency plan outlines the facilities that will be needed to accommodate people who are uprooted from their homes during the flood.

Officials could not say at this stage what this would cost.

Last year, at least 10 000 people had to be accommodated in four tented camps at Lusese, Schuckmansburg and Impalila, and thousands more were affected.

Many lost their homes and belongings, which they had to leave behind when they were evacuated by boat and helicopter from severely flooded areas.

In 2003, the floods also displaced thousands of people when the Zambezi River rose to 6,64 metres.

The EMU, in collaboration with the Ministry of Water, Agriculture and Rural Development, has formed a Vulnerable Assessment committee that is currently travelling throughout the country to assess the probability of natural disasters such as drought and floods, and those caused by human actions.

Kooper said only once this assessment had been carried out would the EMU be able to establish whether assistance would be needed to avoid food shortages.
Source: www.namibian.com.na
http://www.namibian.com.na/
Support Caprivi Freedom
Fill out the form below to become a member of this site and receive our regular newsletter.